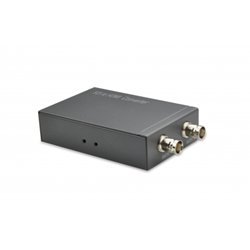 (PRWEB) June 28, 2014
Recently, the well-known electronics accessory company from China, has added a new selection of SDI To HDMI Converters to its product line. And, it is now offering great discounts for these practical products. The special offer will be valid until July 12; all the company's clients can get discounted rates, up to 36% off.
The company's SDI To HDMI Converter collection is made according to the international quality standards. All these high quality items are user-friendly. Each of them can be set up without the need for bulky equipment and professional installers. That can certainly bring a lot of convenience for the users.
Here is some detailed information about the company's brand new SDI To HDMI Converters:
--Input: 1 x BNC female (SDI)
--Output: 1 x BNC female (SDI, pass-through)
1 x HDMI-A female
1 x DC power 5 V
--Supported data rate: 270 Mb/s ~ 2.97 Gb/s
--Supports 8 channels of 48 kHz audio (PCM)
--Robust metal housing
--Power consumption: max. 2.5 W
--Dimensions (LxWxH): ca. 100 x 70 x 25 mm
Owing to its affordable high quality electronics accessories, Hiconn Electronics is known as one of the most reliable suppliers. More and more clients have visited its website and placed orders. A lot of them are very satisfied with the company's items.
About Hiconn Electronics
Hiconn Electronics (Shenzhen Hiconn Electronics Co. Ltd.) is devoted to designing and manufacturing a wide range of connection cables and customized cable assemblies, offering many HDMI cables, VGA cables, SATA cables, USB cables, 1394 cables, DVI cables, SCSI (Small Computer System Interface) and more. For more information, please visit http://www.hiconn.net/.
Contact Person: James Yin (Sales Director)
Company Name: Shenzhen Hiconn Electronics Co., Ltd.
Address: Shenghua Building., Xixiang Road., Baoan District, Shenzhen, Guangdong Province, China
Zip Code: 518102
Tel: +86-755-8109 8345
Fax:+86-755-2779 3497