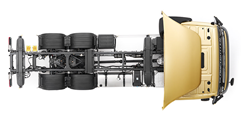 Low pressure pneumatics, suction capability and the high quality weighing system will make the vehicle up to date for EnPlus compliance.
Nuneaton, Warwickshire (PRWEB) June 27, 2014
The UK heating pellet suppliers were established by Managing Director, Andrew Brindley in 2007.
Andy started Midland Bio Energy after noticing the rapid growth in the alternative energy market.
"Energy prices had begun to rise steadily from 2005 but it was in 2007 when they really started to rocket. I began to look around at alternative ways of producing energy and that is when I first became aware of Biomass fuels," explained Andy.
"In 2007 the government were offering funding for businesses and people who switched to alternative energy. This coupled with the fact the market was on the up gave me the idea to form my own company selling UK made pellet fuel," added Mr Brindley.
Mr Brindley originally intended to manufacture and sell bagged wooden pellets but after researching the competition he decided that trying to compete with larger firms (on price) wouldn't be viable.
Andy decided to focus on becoming a retailer of heating pellets and wood pellets suitable for horse bedding.
The Warwickshire based horse bedding pellet suppliers are located in Nuneaton and sell Bio Fuels and pellet bedding to many businesses in the Midlands area.
Midland specialises in supplying wood pellets in bulk and these deliveries can be loaded directly in to a customer's fuel store.
Andy also sells smaller orders in bags along with heat logs and briquettes which customers can buy from the depot, over the phone or from Midland's website - http://www.woodpelletsforfuel.co.uk.
Midland recently invested over £20,000 in state-of-the-art machinery to further improve productivity.
The Nuneaton firm have invested once again to improve loading and delivery by purchasing a custom built delivery truck.
The vehicle is a Volvo FM, 26 tonne which was purchased from Walker Movements in Sawley, Nottinghashire for £28,000.
The vehicle arrived fitted with a curtain sided body and a tail lift.
The body and tail lift have been removed and sold on.
The lorry will then be sent to Commercial Vehicle Solutions in Coalville, Leicestershire where the chassis will be shortened by 1.3 metres at a cost of between £3 - 5,000.
Once this work has been completed Midland's vehicle will then be sent to Volvo for approval and later moved to Priden Engineering in Wisbech, Cambridgeshire.
Bodywork is currently under way to allow a load capacity of 15 tonnes which will allow Andy's Bio Fuel Company to be more efficient and make more deliveries in a day.
Priden will complete the bodywork, pneumatics and weighing system.
Priden are leaders in Pneumatic technology and have re-designed the bodywork to further improve the delivery system.
The modifications include a better flow system which allows the removal of a screw feed, present on other pneumatic delivery vehicles.
The vehicle will then be fitted with suction capability, allowing Midland Bio to suck dust out of the store whilst filling.
The latest on board weighing technology will be added as well as an on board print out facility and specially lined suction pipes (to further reduce dust).
The PM system (by Vishay) will cost £10,000 and will feature 4 x 2 load cells giving greater accuracy of weighing (approved by weights and measures).
The on-board print-out facility will provide customers with the exact weight of pellets delivered.
"This is essential for multi-drops as using a weigh bridge after each delivery is impractical," explained Andy.
The bodywork, pneumatics and weighing system will cost £50,000 in total.
The innovative body design will reduce pellet degradation and improve pellet flow.
Low friction delivery pipes have been added to the vehicle to further reduce pellet damage.
"Low pressure pneumatics, suction capability, low friction pipes and the high quality weighing system will mean the vehicle is ENplus compliant," explained Andy.
According to the Pellet Council website, "A key advantage of ENplus is that pellet quality is managed throughout the entire supply chain including production, storage and transport all the way to the end consumer."