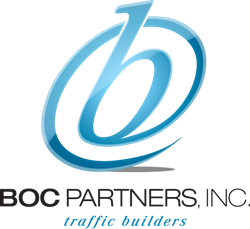 Westfield, New Jersey (PRWEB) June 30, 2014
BOC Partners, an advertising agency based in Westfield, NJ, announced that it has bolstered their sales team by adding another two tried and true veterans of the advertising industry. Formerly in competing agencies, they recently decided to switch over to BOC after being impressed with the agency's aggressive online solutions.
The agency also released that they have acquired 12 new automotive franchises throughout New Jersey and New York, as well as a retail client specializing in home improvement with over 26 locations in the Tri-State Area. Following the company's best year in 2013, these additions have already made 2014 look like an even better year for the agency.
"Good business is simply about getting more clients than you lose," says Britain O'Connor, founder and CEO of BOC Partners. "In that regard, we have already set ourselves up for a great 2014. Yet we can't drop the ball just yet. It's the middle of 2014. The question on everybody's mind is how can we improve over the next six months?" It seems like BOC Partners is not done acquiring new clients, as it is rumored BOC is in communication with major dealership groups around the country.
These new clients will now be exposed to the high-quality online and traditional advertising services provided by BOC Partners. Serving clients for over 25 years, BOC Partners offers businesses a plethora of solutions including but not limited to search engine optimization, search engine marketing, social media optimization, reputation management, and email/database marketing, in addition to advertising in TV, radio, print, and other traditional media.
BOC Partners is located at 1030 South Ave West in Westfield, New Jersey. To learn more about BOC, call Britain O'Connor at 908-232-2177, Ext.14, and visit their website at bocpartners.com.