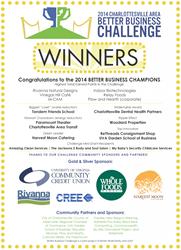 [The Challenge] has drawn together departments and open more than a few individuals' eyes to the need to be more sustainable.
Madison, VA (PRWEB) July 01, 2014
Plow & Hearth, a trusted national catalog, retail, and internet company specializing in unique, enduring home and lifestyle products, was recently announced as a Charlottesville Area Better Business Challenge award winner. The challenge culminated after a 10-month long effort from over 75 Charlottesville, Virginia businesses to bring awareness to environmentalism, energy efficiency, and water/waste/transportation reduction within the business community.
Plow & Hearth received the award of 2014 Better Business Champions with five other companies in recognition for earning the highest number of points during the challenge. Their most notable achievement was that the company saved 887,895 kilowatts per year after lighting upgrade and installation of motion sensors in warehouse.
Beginning in September 2013, nearly 80 businesses worked to increase their efficiency and sustainability as well as earn recognition for their sustainability efforts by looking at six key areas of their daily operations: energy, water, transportation, waste, purchasing and leadership. Each business set out to make significant changes to their business through a scorecard system that was monitored on the Challenge website.
Companies received points based on the difficulty and complexity of the energy efficiency efforts. Common changes include: using natural light; obtaining a third party energy audit; repairing plumbing leaks; developing a bike share program; using hand dryers in the bathroom over paper waste; using greener cleaning products; and hosting a workshop on green topics.
"The Challenge has been a wonderful experience," said Allison Kinney of Plow & Hearth. "It has drawn together departments and opened more than a few individuals' eyes to the need to be more sustainable."
About Plow & Hearth
Plow & Hearth began as a small retail store in Madison, Virginia in 1980, and has grown to become a respected national catalog, retail and Internet company with more than 5 million customers. For over 30 years, the company has been a trusted source of unique, enduring products for the hearth, home, yard and garden, helping customers create an environment that is comfortable and welcoming, warm and personal. The Plow & Hearth Family of Brands also includes quality toys from HearthSong® and Magic Cabin®, weather instruments from Wind & Weather® and innovative solutions from Problem Solvers®.
About the Better Business Challenge
The Charlottesville Area Better Business Challenge is a grant-funded, locally-sponsored initiative led by Better World Betty and LEAP aimed at helping businesses incorporate sustainability into their daily operations. Key partners include the City of Charlottesville, Albemarle County, the Charlottesville Regional Chamber of Commerce, and UVA Darden Graduate School of Business. Sponsors include the UVA Community Credit Union, ColonialWebb, Plow and Hearth, Cree Lighting, Harvest Moon Catering, Whole Foods, Batteries Plus Bulbs, Black Bear Composting, Rideshare, Rivanna Natural Designs, the Paramount, and T&N Printing. Media Partners include 106.1 The Corner, WINA and C-VILLE Weekly.