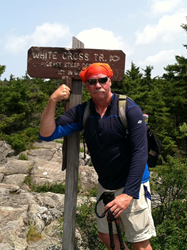 "I like my chances.... one step at a time!"
HARTFORD, CT (PRWEB) June 30, 2014
For years, CCAR Executive Director Phil Valentine has devoted himself to sharing about his addiction recovery in an effort to help others. Over the last few years, Phil has been going on long walks, buying hiking equipment, and reading books about the Appalachian Trail. On March 19, 2015, exactly five years after Phil was diagnosed with stage 4 cancer of the tongue, he will embark on a half-year long journey down the Appalachian Trail to spread the powerful message of recovery throughout the nation.
Now 27 years in recovery, Phil is living proof that with daily recovery and a positive outlook, you can overcome any obstacle. After receiving his diagnosis in 2010, friends were confused as to why Phil didn't seem upset. He readily replied, "Well, why not me? If I truly am a man of faith and integrity, then why not?" Phil did get through it; his treatment consisted of 2 inpatient chemo stays, 39 radiation treatments, additional chemotherapy and a feeding tube. He knows how fortunate he is to be able to say that his cancer is now in remission.
But the battle didn't end with the treatment. He experienced severe withdrawal symptoms when tapering off the pain medication he'd been prescribed. One day, while fighting through these symptoms, Phil perceived an inner call suggesting that he hike the Appalachian Trail, the entire 2,185 miles. At the time, this seemed strange to Phil, who had never even seen the trail. He explains, "At first, I just wrote it off. But it kind of grew into a fire."
On the five-year anniversary of his diagnosis, Phil will begin his Appalachian walk. He plans to travel 11 to 12 miles each day, while speaking to local community leaders about recovery along the route. CCAR will sponsor the walk, and during the trip, Phil will document his experience in real time via social media, and plans to write a book about the journey upon completion. His thoughts and words will offer strong support for all those in recovery and seeking recovery throughout the United States.
Phil is confident and excited about beginning this unique chapter in his life and many people have faith in his journey. As he puts it, "This is the biggest adventure I have taken in my life. I have no idea whether I can do the whole thing; I have no idea what it's going to be like, but I have a lot of people rooting for me and a lot of support, so I like my chances."
You can keep track of Phil as he prepares for his adventures on the Appalachian Trail by following him on a website dedicated to the journey (http://www.AT4Recovery.org), or at hookedonrecovery.com/blog or following him on Instagram @PValentine59 and Twitter @PValentine59.
Since 1998 the Connecticut Community for Addiction Recovery (CCAR) has organized the recovery community (people in recovery, family members, friends and allies) to put a face on recovery and to provide recovery support services to help sustain recovery. By promoting recovery from alcohol and other drug addiction through advocacy, education and service, CCAR strives to end discrimination surrounding addiction and recovery, open new doors and remove barriers to recovery, maintain and sustain recovery regardless of the pathway, all the while ensuring that all people in recovery, and people seeking recovery, are treated with dignity and respect. CCAR envisions a world where the power, hope and healing of recovery from alcohol and other drug addiction is thoroughly understood and embraced. For more information, visit http://www.ccar.us.
# # #