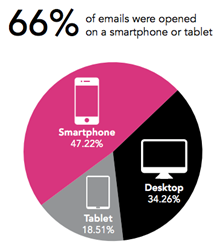 "Our clients have seen dramatic spikes in their web traffic that correlates directly to when we deploy email campaigns to their customers and internet leads." -Peter "webdoc" Martin, President of Cactus Sky
Tampa, FL (PRWEB) June 27, 2014
As email readership on mobile devices increases, Cactus Sky Digital has added targeted conquest email marketing to its suite of digital marketing services to leverage their mobile adaptive email marketing. According to a recent study 66% of people surveyed check their emails on a mobile device.
Cactus Sky pioneered this mobile adaptive email technology with their Pot of Gold Program which utilized emails to data-mine unsold internet leads for automotive dealers. The dealers using the program have seen a considerable boost in sales and it has been directly tracked to the clicks from the mobile emails.
Based upon the success of Cactus Sky's dealers with the mobile enabled emails is was a natural fit to add conquest email marketing to help dealers reach more local prospects. Email remains a predominant marketing communication channel but now there are two challenges: how to get an email delivered past spam filters and how to make it mobile enabled.
"Our clients have seen dramatic spikes in their web traffic that correlates directly to when we deploy email campaigns to their customers and internet leads" Peter "webdoc" Martin, President of Cactus Sky said, "Now with the addition of conquest email marketing our clients can reach more of the local market."
A non-mobile enabled email functions fine on a desktop, but mobile recipients have to pinch and zoom to read the message and the vast majority of them will not and simply delete the email. Mobile-enabled emails differ in that they consider the touch versus click experience. Buttons are sized appropriately and phone numbers are click to call. The text is legible without the need to zoom in.
Smartphones dominate email open rates throughout the day. Email is a key element of mobile marketing. The statistics are staggering. 79% of people report using mobile phones to check email. 59% of smartphone users say they are likely to make a purchase directly from their phone. 69% of smartphone users and 71% of tablet users indicate that direct emails from businesses influence their buying behaviors. Customers have gone mobile but many businesses lag behind. When Marketing Sherpa asked companies whether they are designing emails to render differently on mobile devices, 58% said no. These companies are not considering the mobile customer who is looking at your email under their thumb while they are on the go.
While social media feeds and apps are popular among, mobile users email still wins. Marketing Land reports that email is the most popular activity on smartphones. 91% of consumers check their email at least once a day on their smartphone. Long subject lines, text heavy emails and lack of a clear call to action causes emails to be deleted.
Cactus Sky Digital's Conquest Email Marketing is an effective advertising medium that provides clients with measurable results and return on investment. This marketing can be targeted by consumer populations, zip code, household income and other demographics. For automotive dealers emails can also be targeted by vehicle ownership to provide clients with the opportunity to send conquest advertising to owners of competitive make vehicles. For example a Ford dealer can send marketing to Chevrolet owners in an attempt to sell them a vehicle. To learn more about Conquest Email Marketing contact a representative at Cactus Sky.
###
About Cactus Sky Digital
Cactus Sky is a full-service online advertising and public relations agency whose services increase and expand leads, sales and revenue. The company offers: website design, email marketing, online contests, database management, social media, public relations, online advertising, search engine marketing and mobile messaging. Cactus Sky has the largest consumer and business opt-in email database in the industry To learn more about Cactus Sky Digital and its marketing solutions visit: http://www.cactusskydigital.com.