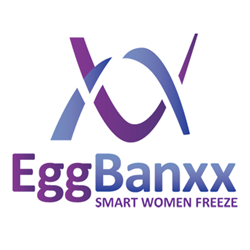 New York, New York (PRWEB) June 27, 2014
As a special (fertility) Independence Day Special, EggBanxx is offering $1,000 off to anyone who purchases an EggBanxx plan before July 4th. EggBanxx egg freezing packages start at $7,500 and the first year of storage is free. Low-interest financing with zero down, flexible terms and no-penalty early repayment is available to those who qualify.
Leahjane Lavin heard about EggBanxx and not only decided to freeze her eggs, but also joined the company to help raise awareness among other women, like her, who want to make sure they have options when they're ready to build or expand their families. "Before freezing my eggs, I worried about whether I'd find Mr. Right in time. Now I know I have my 33-year old eggs at whatever age I decide to start my family, be it 35 or 45! That's exciting," says Lavin.
Dr. Fahimeh Sasan, Chief Medical Officer at EggBanxx, says that women who come to her OB/GYN office in New York City not only have concerns about their fertility when they're having trouble to conceive, but many want to do everything they can to reduce their risk of miscarriage and chromosomal abnormalities as they age, too. "I recommend to my patients to think about the family they want. Is it one child? Is it four? What spacing do you want between them? Then do the math," she explains. "I also ask that women educate themselves about their ovarian health by requesting an AMH test and an FSH test from either their gynecologist or primary health doctor. These tests can help identify a possible issue with either the quantity or quality of a woman's ovarian reserve. If low ovarian reserve is identified as an issue, fertility preservation or egg freezing can help a woman have the biological children she'd like – when she wants to have them. EggBanxx helps women save money, find a doctor and get started faster."
Be empowered, provide yourself fertility independence and set your family-building goals. If you have any questions or would like to connect with an EggBanxx fertility doctor for a consultation, contact EggBanxx at (855) 552-2699.
About FertilityAuthority
EggBanxx is part of the FertilityAuthority family of websites including FertilityAuthority.com, FertileThoughts.com, IVFAdvantage.com, EggFreezingCosts.com, EggBanxx.com, GenderSelectionAuthority.com. With more than 1 million visitors monthly, FertilityAuthority is the world's largest online destination for finding and managing fertility issues. FertilityAuthority's marketing platform enables patients to connect with doctors in a reliable and convenient way while simplifying the search for trusted fertility doctors or fertility clinics. Through its patient matching platform, tools and comprehensive, interactive resources, FertilityAuthority assists patients in making more educated decisions when establishing the important connection between patients and the physicians who can assist them in their family-building efforts.