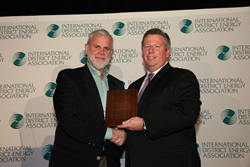 For as long as I have been a part of this association and in this industry, I am absolutely honored to be recognized along with the people who have preceded me
Seattle, Washington (PRWEB) June 27, 2014
The International District Energy Association (IDEA) awarded its highest personal distinction, the Norman R. Taylor Award, on Tuesday, June 10 at its 105th Annual Conference and Trade Show in Seattle, Washington. With over 600 people in attendance, IDEA President & CEO Rob Thornton was proud to present the "Person of the Year" award to Seattle Steam President & CEO, Stan Gent.
The award, named for IDEA's president from 1977 to 1978, recognizes an individual who has achieved professional success and made significant long-term career contributions to the association and to advancing the district energy industry. Stan Gent, this year's recipient, joins a group of 26 past award recipients who have helped pave the way for future success within the industry.
A native of Ireland, Gent graduated from Queens University in Belfast with a degree in Mechanical Engineering. After immigrating to Canada in the 1970's, he started his career in design and construction of power generation facilities for Ontario Hydro and for Edmonton Power. Over the course of his career, Gent served as Vice President of Engineering and Development for one of the world's largest downtown district cooling systems, spearheading technology deployment with innovative ice storage in a major Midwestern US city. He served as President of a downtown district cooling system in a major eastern city, investing in innovative solutions to reduce operating costs and optimize capital assets.
He has served on the IDEA Board of Directors and is active as Co-Chair of the Principal Manager's Forum, a group for those who serve as a general manager with primary operational responsibility in a district energy business. He is a frequent presenter at IDEA conferences and has been a tireless advocate for better energy and environmental policies for our industry, on a local, state and national level.
Today, Gent serves as President & CEO of Seattle Steam, one of the signature downtown district energy systems in the United States. His extensive experience working with district energy and other energy generation systems across North America has helped him to lead Seattle's system to much success. As an active partner to the city and county government, he has put his stamp on supporting the customers in one of America's greenest cities. He has deployed biomass, advanced metering, and other solutions to dramatically cut the company's carbon footprint. He is an active member of the Mayor's Green Building Task Force, the local Chamber of Commerce and the local Rotary Environmental Committee. Gent currently serves on the mechanical engineering advisory board for the local university and is a registered Professional Engineer in the Province of Ontario, Canada.
When receiving the award, Stan Gent humbly offered, "For as long as I have been a part of this association and in this industry, I am absolutely honored to be recognized along with the people who have preceded me. At the same time, over the 25 years, the nice thing is that I have also gotten to know the people that will be following after me. The ideas I have come up with…have come from us all. It has not been a singular effort. If I have done anything in my career for the association and for the industry, it's because I have learned it from all of you, my colleagues here at IDEA."
The International District Energy Association (IDEA) is a nonprofit 501(c) 6 industry trade association founded in 1909 and governed by a 22-member Board of Directors. IDEA represents approximately 1800 members who are district heating and cooling executives, managers, engineers, consultants and equipment suppliers from 26 countries. Association members operate district energy systems owned by utilities, municipalities, hospitals, military bases and airports throughout North America and around the world. Visit http://www.districtenergy.org for more information.