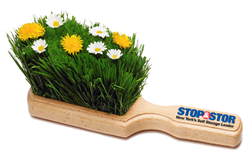 By getting things out of your house or apartment and into a storage unit, you will be reducing the clutter where you live, plain and simple.
(PRWEB) June 27, 2014
If one's home is overflowing with too many things, it's a good idea to add renting a self-storage unit from Stop&Stor to the summer to-do list. Sure, organizing the home might not seem like the best way to spend part of the summer vacation, but the benefits far outweigh the amount of work it will entail. Here are ten of the many reasons to rent a storage unit this summer in the New York City area.
1. Climate controlled storage units
New York Summers are sweltering and humid. If you have items that can be affected or damaged from excessive heat in your home or garage, you should definitely rent a storage unit. Most of our units are climate controlled to protect your items. Plus, you get to drive right into to our exclusive climate controlled indoor loading facilities.
2. Reduce the clutter in your own home
By getting things out of your house or apartment and into a storage unit, you will be reducing the clutter where you live, plain and simple. Go through all your closets, hallways and garage and remove all the things you aren't actively using. Reduced clutter is shown to reduce stress. In fact, in a recent survey conducted by IKEA, over one-third of respondents reported feeling more satisfied after cleaning out a closet than after sex. It will help you feel better to get things out of your house.
3. Rent out your house while you are on summer vacation
If you are planning on taking a long vacation this summer, you can rent a storage unit to store all your valuables and personal belongings. Once your house is down to the bare bones, you could rent it out as a vacation rental while you are gone. Use a service like Airbnb or Vacation Rental By Owner and use your home to make some money while you are away.
4. Less stuff in your house means less to clean
The fewer things in your home means the fewer things you will have to clean. If you remove larger pieces of furniture, you will even find that doing things like mopping and sweeping take less time. Cleaning the garage may take time at first, but with all the extra things in a storage unit, you won't have to clean it again all summer.
5. Space for all your summer guests
Too many items cluttering the guest room hardly gives your guests somewhere welcoming to stay. Clearing it out and getting those items in storage will make your home ready and inviting for your summer guests. They'll appreciate the cleanliness, and you'll appreciate the company.
6. Keep your prized belongings safe
Many items in our home might have high sentimental or family value. Putting those items in self-storage will protect them not only from the elements but from accidental destruction or criminal activity. Particularly a great idea if you have heirloom furniture you want to protect.
7. Ideal if you are in a transitional period
Summers can be a time of transition. If you are moving or changing jobs, a storage unit is a must. You can pack up your whole house and store it. With all the hard work done you get to enjoy the summer worry-free. Once the summer is over, simply move and unpack the unit in your new home or office.
8. More time overall
Living with less clutter will give you more free time. Think about all the time you spend searching for that elusive document or your misplaced keys. When you move all the unnecessary things from your house into a self-storage unit, you will find yourself able to locate things quickly and easily.
9. Try out new decor commitment free
Rent a self-storage unit and move out all the furniture you don't like anymore. You can then see what your house will look and feel like without the things you don't like, but without committing to a new look or disposing of sentimental favorites.
10. Moving truck included
Stop&Stor offers you a moving truck for move-in at no cost. This alone is worth almost the entire cost of the storage unit as you don't have to hit up your friends with the truck for help.
Summer is a time of transition and catharsis. Look to a storage unit when the weather turns warm to help cleanse the mind and open the future.