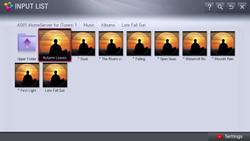 We are delighted to introduce this new feature to iHomeServer users to help make it easier for anyone to stream and enjoy their iTunes content on non-Apple TVs
(PRWEB UK) 30 June 2014
Software company Bizmodeller has released iHomeServer version 3, complete with new functionality that allows iTunes media to be played on any smart TV. Until now, media and films stored in a user's iTunes library could only be viewed on an Apple TV or by connecting Apple computer products to compatible TVs with the use of HDMI cables. This new functionality is available to anyone with iHomeServer and does not require any extra hardware or a complicated setup process.
Bizmodeller explains, "Most modern televisions already include advanced streaming technologies and iHomeServer for iTunes leverages these so that you can stream your iTunes movies, television episodes and music to your smart TVs, without the need for an Apple TV box or any connecting cables."
Most smart TVs, including those made by LG and Samsung, support media streaming through a system called DLNA (Digital Living Network Alliance) but until now, streaming a user's iTunes library to these devices was difficult without an Apple TV or AirPlay certified device. This latest version of iHomeServer removes those difficulties associated with sharing iTunes media to non-Apple TVs by making iTunes libraries available as a DLNA service on users' home networks.
A Bizmodeller spokesperson says, "We are delighted to introduce this new feature to iHomeServer users to help make it easier for anyone to stream and enjoy their iTunes content on non-Apple TVs."
iHomeServer for iTunes does not currently support streaming of DRM protected media, such as movies or television episodes purchased from the iTunes Store. However, the vast majority of music on the iTunes Store has been DRM free since 2009 as well as most user sourced television and movie files satisfying many iTunes users' needs. (1)
iHomeServer also publishes iTunes media with all its associated metadata and cover art too so DLNA compliant televisions and media players will display iTunes library content just as it would appear on an Apple device.
Other new features in the latest release of iHomeServer include advanced media iTunes Watch folders, DVD ripping direct to iTunes, video conversions to iTunes formats, metadata tagging for movies/television episodes and a web interface for streaming iTunes libraries to devices locally and on the Internet. Bizmodeller is currently offering a 30 day free trial on the iHomeServer website.
Sources
(1) Apple Press Information relating to DRM-free music http://www.apple.com/pr/library/2009/01/06Changes-Coming-to-the-iTunes-Store.html
About Bizmodeller
Bizmodeller (http://www.bizmodeller.com) is an IT software and consultancy company set up in 2001. Bizmodeller specialises in multimedia solutions and software with advanced functionality that allows users to enjoy and manage their media collection seamlessly. The company has developed a range of unique products that provide a comprehensive set of iTunes's feature extensions including the groundbreaking iHomeServer application which allows users to run iTunes as a Windows service.