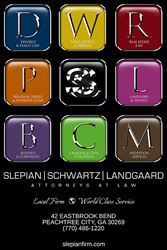 Atlanta, GA (PRWEB) June 30, 2014
The Law Firm of Slepian, Schwartz & Landgaard (SSL), located in Peachtree City, GA announced the launch of its full-featured website, http://www.slepianfirm.com. The new site has extensive client focused content and a responsive mobile-friendly version for smart phone and tablet users.
The slepianfirm.com website is designed to provide new and current clients quick access to valuable information about each of the legal specialties that SSL provides. Visitors can also fill out the website's information request form and expect to receive a quick and accurate reply. The website highlights the firm's background, plus each attorney's background and experience so clients know they are being served by a highly competent legal team.
Fresh and visually appealing, the new SSL Law Firm website features a wide-ranging overview of information and an introduction to the legal practice areas the firm covers including real estate, divorce and family law, civil and criminal law, landlord/tenant disputes, mediation services, personal injury law and workers comp. With the mission to provide high-quality and efficient legal representation to individuals and businesses in the Metro- Atlanta area, Slepian, Schwartz & Landgaard believes in taking the time with each client to understand their legal situation and to create a personalized legal strategy to achieve their goals.
Eric Slepian, the firm's founder said, "SSL is dedicated to the Golden Rule, always treat others – clients, employees, and other attorneys – the way we would want to be treated… with respect and honesty and no phone call goes unreturned." He pointed out one of the firm's longstanding policies, "It's a small thing, but it's a vital thing. I don't want our staff leaving the office until everyone has been called back, because if I were on the other end of the line, I would want my lawyer getting back to me."
Slepian, Schwartz & Landgaard Law Firm, is a full-service law firm which employs six licensed attorneys who specialize in divorce, family law, wills, estates, probate, real estate law, personal injury, workers compensation, landlord / tenant disputes, business and corporate law, criminal and civil litigation and mediation services. The law office is located in downtown Peachtree City, Georgia. SSL offers free initial consultations for most legal matters. The firm can be contacted at (770) 486-1220 for a consultation or via the website at http://www.slepianfirm.com/contact-us/.