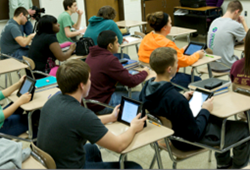 Wil, Switzerland (PRWEB) June 28, 2014
FileWave announced earlier this week that a big surprise would be in store for attendees of the annual International Society for Technology in Education (ISTE) Conference this weekend in Atlanta, GA. FileWave already provides device management for desktop and laptop computers (Mac and Windows) and mobile devices (iOS and Android) and just last week, announced it now supports Apple's Device Enrollment Program (DEP).
Details are still under wraps, but FileWave is teasing their newest tool, stating it will engage students by having tools that promote participation and collaboration, allow teachers to regularly check for understanding, and reduce transition time by simplifying administrative tasks.
The ISTE 2014 Conference begins this weekend, June 28, and runs through July 1st. Demonstrations will be available at the FileWave booth number 2948 during exhibit hall hours.