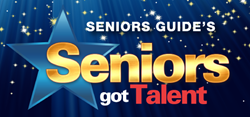 Each year has been bigger than the last.
Richmond, Virginia (PRWEB) June 30, 2014
Seniors Guide, the comprehensive resource for retirement communities, home care, and services for seniors, has announced the official start date of their fourth annual SENIORS GOT TALENT.
Beginning July 1, 2014, Seniors Guide's SENIORS GOT TALENT is an online video collection of seniors from across the country having fun by showcasing their talents – with the added bonus of a chance at 1 of three top cash prizes: $250 for third place, $500 for second place, and a grand prize of $1,000 for first place.
"Each year has been bigger than the last," says Katharine Ross, Vice President of Sales and Marketing for Seniors Guide Magazine and SeniorsGuideOnline.com.
"The feedback we get is that everyone has just as much fun filming their talents as they do showcasing them to a large audience," says Ross.
Previous winners of SENIORS GOT TALENT have included retirement communities, senior centers, and independent talents.
Runk & Pratt Senior Living, with communities in Forest, Smith Mountain Lake, and Lynchburg, Virginia, won the grand prize in the 2013 contest for their video remake of Glee's "Don't Stop Believin". Filmed by the community, the video featured residents and staff in a fully produced music video.
"Although some videos may look more professionally done, we've had winners and successful videos that were filmed with an iPhone or digital camera," says Ross.
Another previous winner is back for their third year in a row. The Garner Senior Center in Garner, North Carolina has already submitted a video from their dancing senior troupe – the G Squad. "Singin in the Rain" puts a new spin on the classic Fred Astaire song through the talented group's dancing talents. Previous video submissions from the G Squad included routines to Adele's "Rumour Has It" and Lady GaGa's hit song, "Telephone".
Winners of SENIORS GOT TALENT are chosen by Seniors Guide based on the total number of votes each video gets. Just like previous years, the videos with the most individual votes will earn the top prizes. Visitors to Seniors Guide's SENIORS GOT TALENT's website can vote for each of their favorite videos daily until the end of the contest.
Seniors Guide's 2014 SENIORS GOT TALENT concludes on December 31, 2014 with the announcement of winners the first week of January 2015. For more information, visit http://www.SeniorsGotTalent.com, or email Talent(at)SeniorsGuideOnline(dot)com.
Seniors Guide, a Richmond, Va. -based company publishes Seniors Guide magazines throughout Cincinnati, Ohio; Columbus, Ohio; Dayton, Ohio; Indianapolis, Indiana; Raleigh-Durham, North Carolina; Richmond, Virginia; and Roanoke-Lynchburg, Virginia and features a correlating website of http://www.SeniorsGuideOnline.com. Seniors Guide's mission is to help seniors and their families find the information they need on options available in senior housing, senior care, assisted living, independent senior living, retirement communities and other retirement living needs. Seniors Guide also has resources at http://www.HomeCareChoice.com for Cincinnati, Ohio; Columbus, Ohio; Dayton, Ohio; Raleigh-Durham, North Carolina; and Richmond, VA. Ross Publishing, Seniors Guide's parent company, began in 1991 and has been publishing helpful, free publications and websites ever since.