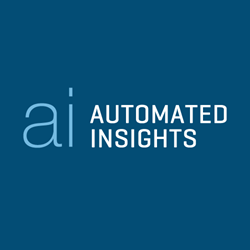 We have hit a tremendous untapped market by helping people unlock the stories hidden in their data.
Durham, NC (PRWEB) June 30, 2014
Automated Insights (Ai), the world leader in producing personalized narrative content from Big Data, today announced that it closed a $5.5 million Series B financing round led by Osage Venture Partners. 
The round included participation from Samsung Venture Investment Corporation, The Associated Press, AOL co-founder Steve Case, former SevOne CEO Mike Phelan, Court Square Ventures, OCA Ventures, IDEA Fund Partners and other existing investors.
"Automated Insights is an exciting company and we look forward to expanding our partnership," said Sang Ahn, Managing Director, Samsung Open Innovation Center.
Ai's patented Wordsmith technology is a natural language generation platform that spots patterns, correlations, and insights in large data sets and then describes them in plain English via narrative reports, just like a data scientist would.
"Automated Insights has innovative and patented artificial intelligence software in a very exciting space, and we believe their natural language generation platform will be a game changer in multiple markets," said David Drahms of Osage Venture Partners. "Ai's growth and the feedback from its strong list of customers are impressive. We are thrilled to team up with such an experienced management team and exciting strategic investors."
As part of this financing, Drahms and the company's COO, Scott Frederick, have joined Ai's board of directors.
"Today, companies rely on business intelligence tools or in-house solutions that force users to decipher complex dashboards," said Robbie Allen, Ai's CEO and Founder. "The problem is that charts and graphs don't tell a story, words do. Wordsmith enables any company to communicate a unique and actionable message to each employee or customer."
The company has been growing rapidly, with dozens of new customers in a wide range of verticals.
"We have hit a tremendous untapped market by helping people unlock the stories hidden in their data," said Allen. "We will publish over a billion stories and reports this year for partners like Yahoo!, Edmunds.com, and soon The Associated Press."
The Associated Press announced Monday it would leverage Ai's Wordsmith technology to produce quarterly earnings reports, based on the reported financial data of publicly traded companies.
"The potential for Ai's technology is evident in the strategic investors in this financing round," said Jim Kennedy, AP's senior vice president for Strategy and Enterprise Development.
ABOUT AUTOMATED INSIGHTS, INC.
Automated Insights (Ai) transforms Big Data into written reports with the depth of analysis, personality and variability of a human writer. In 2014, Ai and its patented Wordsmith platform will produce over 1 billion personalized reports for clients like Yahoo!, The Associated Press, the NFL, and Edmunds.com. The Wordsmith platform uses artificial intelligence to dynamically spot patterns and trends in raw data and then describe those findings in plain English. Wordsmith authors insightful, personalized reports around individual user data at unprecedented scale and in real-time. Automated Insights also offers applications that run on its Wordsmith platform, including the recently launched Wordsmith for Marketing, which enables marketing agencies to automate reporting for clients. Learn more at http://automatedinsights.com.