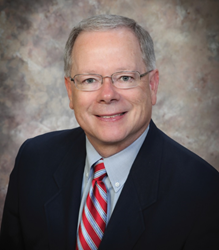 During my 37 years as a member, FMS has provided me with unique opportunities from an educational standpoint, as well as opportunities to meet and network with fellow members who I now consider to be friends. - Alan Renfroe
Chicago, IL (PRWEB) June 30, 2014
Alan Renfroe, Executive Vice President, CFO of First Federal Savings & Loan Association in Pascagoula, Miss., was elected Chairman of the Board of the Financial Managers Society (FMS) at The 2014 Finance & Accounting Forum for Financial Institutions, which took place June 22-24 in Orlando, FL.
Renfroe has been involved with FMS for over 30 years and has had an active role with the Society's leadership for nearly a decade having served as a Director-at-Large on the board from 2004-2010, again in 2012, and as FMS Vice Chairman since June 2013. He served on the National Conference Council and the 2007 FMS Strategic Planning Task Force.
"Alan is one of our longer tenured members, and has devoted much of himself to the Society over the past 35 years," stated Dick Yingst, President and CEO of FMS. "It's wonderful to see him become chairman after serving eight years on our board. His passion for both FMS and the industry will serve our membership well."
Renfroe, who will serve as Chairman from June 2014 through June 2015, along with the rest of the volunteers on the board of directors, is charged with guiding the Society as it fulfills its mission to enhance the professional development of financial personnel within financial institutions, more specifically, CFOs, controllers, internal auditors, risk managers, and other financial professionals from community banks, thrifts and credit unions across North America.
"I am deeply honored to serve as the chairman of FMS," stated Renfroe. "During my 37 years as a member, FMS has provided me with unique opportunities from an educational standpoint, as well as opportunities to meet and network with fellow members who I now consider to be friends. I look forward to sharing another successful year with FMS."
Renfroe has been with First Federal for over 37 years and served as CFO for more than 10 years. His responsibilities include Investment Portfolio Management, Asset-Liability Management, Liquidity Management, and administration of the Pension Fund. He holds an active position on the Executive Committee in steering the bank forward with new products and services to meet the financial needs of the community.
In addition to his professional experience, Renfroe has served on the board of the Boys and Girls Club of Jackson County, as a Past President of the Rotary Club of Moss Point and on the Board of the Jackson County United Way. Alan lives in Moss Point, Mississippi, with his wife Rene'. They have three children: John, Mary and Sara.
"We are so proud of this recognition for Alan. It's a testament to his service to FMS and First Federal over many years," stated Weldon Perkins, President and CEO of First Federal. Along with his professional accomplishments Alan is very proud to work beside the 55 employees making up the First Federal family who recently earned the distinction of being named "Best Bank To Work For 2013" by American Banker.
About The Financial Managers Society, Inc.
For over 65 years, the Financial Managers Society (FMS) has exclusively served finance, accounting and internal audit executives from community banks, thrifts and credit unions nationwide. FMS' network of members has provided with networking and social sharing opportunities through our new online community, FMS Connect; and technical education through conferences, seminars, webinars and publications year-round on a variety of industry-related topics specific to today's financial institutions professional. For details on FMS membership benefits and upcoming programs, visit http://www.fmsinc.org or call 800-ASK-4FMS (800-275-4367).
About First Federal Savings and Loan Association
Founded in 1955, First Federal Savings & Loan Association of Pascagoula-Moss Point has grown to over $274 million in assets with six branches serving South Mississippi. First Federal is a leader in mortgage lending on the gulf coast and is committed to serving our customers for the life of their loan. First Federal provides unmatched service on mortgage loans and deposit accounts and continues to move forward with exciting new products and services. The company was recognized as #1 "Best Bank to Work For 2013" by American Banker. More information and account services are available at http://www.FirstWithUs.com.