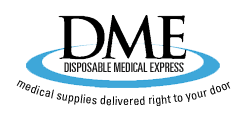 (PRWEB) July 07, 2014
Online retailer Disposable Medical Express has announced a new no-cost shipping offer in an ongoing effort to give their customers the best pricing on incontinence and other medical supplies. The company will be shipping all orders placed on their orders for $25 or more at no charge.
"We know incontinence supplies can be expensive," said a Disposable Medical Express representative. "We want to make it as affordable and easy as possible for all of our customers, and we think this no-cost shipping offer will benefit a lot of people."
The company offers a wide selection of incontinence supplies such as diapers, briefs, pads, and wipes. In addition, they also offer supplies such as exam gloves, hygiene products, pill boxes, urological supplies, and more. All items on Disposable Medical Express' website will be eligible for the free shipping deal.
"We make it easy for our customers to find what they need on our website," said the representative. "But if they ever need help, our customer service team is just a phone call or email away." To place an order and take advantage of the free shipping offer, visit the company's website at http://www.disposablemedicalexpress.com.
About Disposable Medical Express
Disposable Medical Express is dedicated to providing customers with the highest quality medical products at the best possible prices, and with customer service that is unparalleled. Their large inventory and low overhead allow them to offer the best prices available online without hidden costs. They also offer a wider selection online than is available in a big box store, while also providing customers with discretion and easy ordering options.