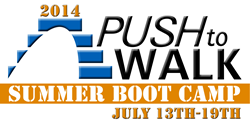 In the past two years, Summer Boot Camp has become an event that our clients and staff look forward to, and we hope that it proves to be an even bigger success this year
Riverdale, NJ (PRWEB) June 30, 2014
Beginning July 13 through July 19, Push to Walk will hold its Summer Boot Camp for its third consecutive year. The camp was envisioned as a way to encourage the non-profit's current, past, and prospective clients to make connections and learn from one another. The week will focus on providing as many quality specialized workouts to campers as possible and incorporating a variety of social activities for many interests.
Kickoff to the camp will include an ice cream social with guest speaker Dan Monzo, a U.S. Paralympic snowboarder, who will motivate campers to give their all during the week to come. Days will be reserved for workout sessions and each evening will offer opportunities to unwind, enjoy, and participate in events such as: seated yoga, trivia, sled hockey, quad rugby, and adaptive tennis.
Push to Walk's camp week coincides with Dr. Wise Young's Open House at Rutgers, which the camp will travel to as a whole to listen to research updates and progress on clinical trials coming to the United States. Push to Walk will also have its own open houses where vendors, who cater specifically to the organization's clientele, will be on site to provide demonstrations and information on Tuesday and Thursday. Members of public are invited to attend.
Push to Walk constantly looks for ways to encourage clients to maintain healthy lifestyles in and out of the gym. Summer Boot Camp adds to the organizations program by introducing clients to new and fun activities. "In the past two years, Summer Boot Camp has become an event that our clients and staff look forward to, and we hope that it proves to be an even bigger success this year," explains Push to Walk Founder, Cynthia Templeton.
Push to Walk uses exercise trainers certified in methods known to help people regain strength, function and independence and provide one-on-one workouts to their clients. The next closest facilities of this kind are located in Boston and North Carolina.
Online donation opportunities are available on the Push to Walk website: http://www.pushtowalknj.org. For sponsorship opportunities or more information, please contact Stephanie Lajam at (862) 200-5848 or slajam(at)pushtowalknj(dot)org.
#####
About Push to Walk
Founded in 2007, Push to Walk is an organization that provides individualized workouts and resources to people with spinal cord injuries and other forms of paralysis to optimize current quality of life and to prepare for future medical advancements. It is the only program of its kind in the New York- New Jersey area. Push to Walk's rigorous one-on-one workout approach challenges clients to reach their personal goals and achieve maximum independence, leading to greater success and fulfillment in their personal and professional lives. Push to Walk is only able to cover about 65% of its operating costs through client fees, and relies on grants and fundraising events to help make up the difference. A 501(C)3 non-profit, Push to Walk is located in Riverdale, New Jersey. Visit http://www.pushtowalknj.org to learn more