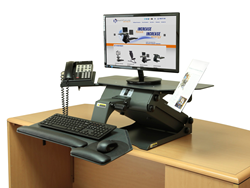 When attending a show of this size, everyone analyzes what is getting displayed and looks for trends and shifts in the field to get a pulse on the direction in which the market is moving.
Burnsville MN (PRWEB) June 29, 2014
HealthPostures, a pioneering ergonomics designer, attended the National Exposition of Contract Furnishings (NeoCon conference) Conference in Chicago. The ergonomics designer has been developing patented workplace solutions since 1996. Major products HealthPostures has designed include the 6100 TaskMate Executive, the 6300 TaskMate Go and the 6450 TaskMate EZ Surface.
A commitment to help American adults transform their work lifestyles from sedentary to mobile is at the core of the products' designs. As a leader in the sit/stand ergonomics market, HealthPostures' senior leaders recognize the need to continue to invent and enhance the company's product designs to meet the demands of a growing American workforce, including people who work in office, military and industrial environments.
This recognition is a primary reason why HealthPostures sent one of its executives, Jared Elliott, to the NeoCon Conference in Chicago. As the largest design conference and exposition in North America, the conference attracted over 40,000 professionals who specialize in design and architecture. Exhibitors and attendees showcased their products and networked for three days, the conference running from June 9-11, 2014 at The Merchandise Mart in Chicago.
This marks the first year that Jared Elliott represented HealthPostures at the NeoCon Conference. Jared noted that he attended the conference because he wanted to, "get a feel for the show and become familiar with the design elements that are being used in today's office furniture, including colors, shapes, sizes and function." Jared also shared that he wanted to "see if HealthPostures would be a fit to attend as an exhibitor next year."
Attendance at the conference put HealthPostures' Jared Elliott in contact with multiple vendors who design and/or sell furniture accessories. About these new business relationships, Jared said the products that HealthPostures designs "might be used in future projects" that conference exhibitors undertake. Product design needs that the ergonomics company is positioned to satisfy cover areas such as furniture, technology and interior office products.
Jared also shared that, "When attending a show of this size, everyone analyzes what is getting displayed and looks for trends and shifts in the field to get a pulse on the direction in which the market is moving." Product development and marketing are other components of the design field that Jared focused on while networking with different conference exhibitors. Should takeaways from the conference influence future HealthPostures' product designs, the changes might impact industrial, healthcare or office products the ergonomics company invents.
Approximately 100 accredited seminars, forums and presentations were delivered at the NeoCon Conference. Specific markets represented at the conference were healthcare, retail, workplace, hospitality, environmental, government and education. HealthPostures has expressed interest in attending the NeoCon Conference in 2015.
About HealthPostures
HealthPostures LLC (https://healthpostures.com) builds rehabilitative and ergonomic equipment that helps people to stay healthy while they work. The firm has been designing and manufacturing ergonomic sit stand solutions since 1996. Part of the company's mission is to "strive to provide quality products that will help transform your sedentary life so you have a healthy way to work." Office solutions sit stand products Health Postures designs and manufactures include dual monitor sit stand work stations, adjustable mouse stands, dual monitor arm accessories, Stance move seat extensions, industrial surface Taskmates and Stance Move chairs.
Contact:
HealthPostures LLC
14310 Ewing Avenue South, Suite 100
Burnsville, MN 55306
800-277-1841
https://healthpostures.com