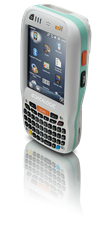 "In healthcare the prevention of infection is a serious concern and we took that into consideration with the new Healthcare Elf PDA" states Francesco Montanari, VP and GM of the Mobile Computer Business Unit.
Eugene, OR (PRWEB) July 01, 2014
Datalogic, a global leader in the Automatic Data Capture (ADC) market, known for cutting edge technology in the development of bar code scanners, mobile computers, and vision systems, is happy to announce the availability of the Elf™ Healthcare PDA. This ergonomic PDA boasts an enclosure made of chemical resistant plastics - enabling it to withstand daily cleaning with harsh disinfectant solutions commonly found in various healthcare settings such as Sani-cloth®cleaners, CaviWipes™ and others.
The Elf Healthcare PDA is a product line extension of the robust Datalogic Elf PDA, capitalizing on its ergonomics and proven reliability. The Elf Healthcare PDA is equipped with the Datalogic patented 'Green Spot' and a vibrating alert providing good read feedback while avoiding noisy beeps. These two features help to ensure quiet, restful scanning during patient bedside applications.
"In healthcare the prevention of infection is a serious concern and we took that into consideration with the new Healthcare Elf PDA," states Francesco Montanari, VP and GM of the Mobile Computer Business Unit. "Keeping in mind the growing use of 2D codes throughout various healthcare settings, we have designed the Elf Healthcare PDA with a fast and reliable 2D imager encased in specialized chemical resistant plastics to meet the needs of our healthcare customers."
Significant feature points found in the Elf Healthcare PDA include:

Single slot dock (SSD) available in chemical resistant plastic
Windows Embedded Handheld 6.5 operating system
Laird/Summit embedded 802.11 a/b/g radio for enterprise-class mobile connectivity with CCX V4 certification
Bluetooth® Wireless Technology v2.0 with EDR
Wide aspect 2D imager
3 Megapixel auto-focus camera with flash
256 MB RAM/256 MB Flash memory
XScale™ PXA 310@624 MHz processor
User-accessible microSD card slot compatible with SDHC
Rugged design allowing for a 1.2m / 4.0 ft drop spec to concrete
IP64 sealing protection rating
Wavelink Avalanche® device management (pre-licensed)
Pal™ Application Suite included
The Elf Healthcare PDA provides much needed mobility throughout various healthcare applications such as: Wristband identification, exam tracking, medication dispensing, bedside point of care and medication administration, specimen barcodes, blood bag traceability and breast milk tracking.
Datalogic ADC, the world leader in Automatic Data Capture, offers state of the art solutions with fixed position retail scanners, handheld scanners and mobile computers. Datalogic ADC's range includes in-counter and on-counter point of sale scanners, general purpose and ruggedized handheld scanners, rugged mobile computers, industrial PDAs and vehicle mount computers. Solutions for applications in several sectors include healthcare, hospitality/entertainment, manufacturing, retail, services and transportation & logistics.
Businesses in the retail sector can particularly benefit from Datalogic ADC's vision-based technology solutions, analytical tools, self-shopping solutions and consumer relationship technologies.
A division of the Datalogic Group, Datalogic ADC is headquartered in the US with a presence in over 120 countries.
Datalogic Group is a global leader in Automatic Data Capture and Industrial Automation markets. As a world-class producer of bar code readers, mobile computers, sensors, vision systems and laser marking systems, Datalogic offers innovative solutions for a full range of applications in the retail, transportation & logistics, manufacturing and healthcare industries. With products used in over a third of world's supermarkets and points of sale, airports, shipping and postal services, Datalogic is in a unique position to deliver solutions that can make life easier and more efficient for people. Datalogic S.p.A., listed on the STAR segment of the Italian Stock Exchange since 2001 as DAL.MI, is headquartered in Lippo di Calderara di Reno (Bologna). Datalogic Group as of today employs about 2,400 members of staff worldwide distributed in 30 countries. In 2013 Datalogic Group achieved revenues for 450,7 million Euro and invested over 35 million Euro in Research and Development with a portfolio of over 1,000 patents across the world. For more news and information on Datalogic, please visit http://www.datalogic.com.
Datalogic and the Datalogic logo are registered trademarks of Datalogic S.p.A. in many countries, including the U.S.A. and the E.U. Elf is a trademark of Datalogic ADC, Srl. All other brand and product names are trademarks of their respective owners.
Contact:
Pam McQueen
pam.mcqueen(at)datalogic(dot)com
541-302-2012