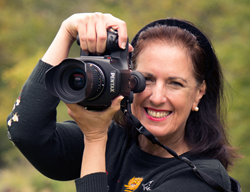 [Sally is]... a global treasure. ~ Pat Schroeder, former U.S. Congresswoman
(PRWEB) June 28, 2014
To be mentored by one of the "Greats" is the dream of all serious hobby photographers, as well as entry-level or mid-career photographers. Sally Wiener Grotta will be offering a series of exclusive photography and imaging Master Classes that will be kept so small that each student will have the opportunity for one-on-one guidance and mentoring with Sally. However, given her busy schedule of American Hands exhibits, photo shoots, personal appearances and lectures, the Master Classes will be only a couple of weekends a year, when she can find the time.
Covering one to four days, the Master Classes will include:

Photography Immersion Workshops
Fine Art Printing Workflow
Adobe Photoshop Immersion
Mastering Adobe Lightroom
Developing Your Grant Proposal
Seeing & Using Light
Given how few Master Classes Sally can offer per year, she has posted a survey on her website, so prospective students can vote on what she will teach next. In addition, Sally will be accepting Mentoring requests on a hourly basis.
Each Master Class will be limited to only a handful of photographers, allowing each student private mentoring time with Sally, to address his or her specific interests and needs. Computer-based classes (such as photo editing in Adobe Lightroom) are limited to four students. Other classes (such as on lighting or model portraiture) are usually limited to no more than six to eight students. To get a sense of what a Master Class with Sally is like, check out the video of John Iasiuolo's interview with Sally.
To be put on a waiting list for the next Master Classes with Sally Wiener Grotta, use the Contact form on her website.
ABOUT SALLY WIENER GROTTA
Every once in a while great artists are able to transcend... Sally's vision is grand... [and] ... reflected in the warmth she portrays in the people she photographs and the world she captures. ~Steven Rosenbaum, President of SIR Communications and former Editor of Modern Photography.
Recognized as "one of the world's top photographers," such is Sally's renown that she is generally referred to by her first name. A pioneer in digital art, Sally developed new creative techniques and styles in the medium when it was still in its infancy. Numerous other experts in digital photography and imaging have acknowledged that they first learned the basics from Sally's books, articles and/or lectures.
Sally is credited with a number of "firsts" in the field of photography and digital imaging. These include a major one-woman art exhibit at the Apple Market Center in New York City, which was the first all-digital show at the Center. (Some say it was the first all-digital art show in Manhattan.) The creator of the American Hands photo project, her exhibits have been seen and admired by hundreds of thousands of individuals.
A former chapter president of American Society of Media Photographers (ASMP) and Contract Shooter for The Stock Market photo agency, Sally has traveled on assignment all over the world, to every continent (including three trips to Antarctica), plus many exotic islands (such as Papua New Guinea and Madagascar). Sally's photographs and articles have appeared in many magazines and books, including: Islands Magazine, Réalities, Parade, San Francisco Magazine, Showboats International, Newsweek, Lear's, The Robb Report, Popular Science, Woman's Day, American Heritage, and scores of others. She has also authored hundreds of articles and numerous books on photography and imaging, and is a popular guest for radio and TV interviews on the subject.