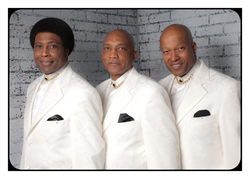 Collectively, Leonard, Coleman & Blunt's groups have sold over 100 million records with dozens of number one hits everyone in the audience can sing along to.
Washington, DC (PRWEB) June 27, 2014
The three Washington, DC natives have a back story right out of a Hollywood movie; Leonard, Coleman & Blunt grew up singing together on street corners and in local venues throughout the 1960's, and were eventually signed in the early 1970's to the legendary Atlantic Records where they recorded an album together as "The True Reflection" with friend Billy Cox. The album received excellent reviews, and a single called "Where I'm Coming From" received some radio play in 1973, but the project didn't see much success commercially, so the three vocalists eventually went their separate ways.
It was then that each of their musical careers took off to the upper limits of stardom. Glenn Leonard was first, receiving the call to join Motown's legendary Temptations where he recorded 10 hit albums, toured the world, and sang lead on many of the group's hits. It's Glenn's sweet tenor you hear on The Temptations best-selling version of the Christmas classic "Silent Night," which is played every year during the holidays. Glenn relocated to Hollywood Boulevard, married the lead dancer on TV hit "Solid Gold," and participated in the Temptations "Reunion" tour with all the original band members. Leonard left the group in 1985, became a full time minister in the Houston area and eventually returned home to Washington DC.
Joe Coleman worked steadily as a much sought-after studio vocalist, songwriter, playwright, and theatrical director before joining the legendary Platters for a two-decade stint as the group's lead singer. Joe headlined at Las Vegas Sahara Hotel and Casino with The Platters for several years before coming back to the East Coast, where he now splits his time between homes in New York City and Washington, DC.
Joe Blunt joined the legendary Drifters, performing and recording with the group with his trademark smooth vocal stylings for over a decade in venues all over the world. During that time, the group experienced a huge resurgence of popularity in the United Kingdom, and Blunt rode that wave, performing dozens of shows alongside Drifters legends Ben E. King and Johnny Moore before eventually returning to his Washington, DC home.
Once back together in DC, the three old friends hit upon the idea of performing together as one unit, singing in unison all the biggest hits from each of their individual careers with The Temptations, Platters and Drifters. Collectively, Leonard, Coleman & Blunt's groups have sold over 100 million records with dozens of number one hits everyone in the audience can sing along to. Fans are treated to incredible showmanship, classic dance moves and some of the biggest hits of all time, including "My Girl," "The Way You Do The Things You Do," "Get Ready," "The Great Pretender," "Only You," "Smoke Gets In Your Eyes," "Under The Boardwalk," "On Broadway," "Save The Last Dance For Me," and many more. Together, Leonard, Coleman & Blunt bring their rich blend of classic hits and showmanship to the stage to delighted audiences around the world.
Also appearing Tuesday night at the Howard Theatre alongside Leonard, Coleman & Blunt will be The Johnny Artis Band, well known in the Mid Atlantic region for their fun loving brand of R&B and Rock & Roll.
Leonard, Coleman & Blunt are managed by Burke Allen and Allen Artists Management, a division of Allen Media Strategies of Washington, DC.
For interviews, reviewer tickets and all media requests for Leonard, Coleman & Blunt, contact: Erika Schaefer, Allen Media Strategies at (703) 589-8960 / erika(at)allenmediastrategies(dot)com.
Concert information:
Buy your tickets here. Tickets are $20 in advance and $25 at the door. The Howard Theatre is located at 620 T Street NW, Washington, DC.
Show time for the Johnny Artis Band: 7:30 p.m. Show time for LCB: 9:00 p.m. VIP and AARP Reception: 5:30 p.m. to 7:00 p.m. Doors open 6:00 p.m. for general admission.
AARP members receive a 30% discount on tickets with user code DCSN.
For more information about the show, click here.