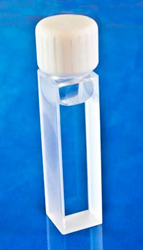 Farmingdale, NY (PRWEB) June 29, 2014
Starting in 2008, NSG Precision Cells began manufacturing solid-state spectrophotometer calibration standards for photometric and wavelength accuracy. These filters completely changed the calibration standard industry because these filters never required re-calibration. NSG's FUV line is being used by companies such as Roche, 3M, and Sigma-Aldrich.
Why did NSG create calibration standards that never need re-calibration? The answer is because scientists were spending a huge amount of money on re-calibration. Now in 2014, NSG has released a full line of liquid calibration standards that will help researchers save time and money. This new line has the ability to test photometric accuracy, wavelength accuracy, stray light & resolution accuracy.
One of the benefits of NSG liquid spectrophotometer calibration standards is that the re-calibration time is very short. In the past scientists would have to wait months while they sent their standards back to the manufacturer, had them re-calibrated, and then had them returned. This would cost researchers hundreds of hours of valuable research time.
NSG's focus has been on keeping the calibration standards where they are needed, in the laboratory. NSG offers their clients a choice of expedited or standard re-calibration. The expedited option takes about 2 weeks and the standard option takes 3-4 weeks. Either option is a huge improvement over NSG's competitors who have informed customers of 5 month lead times.
Besides the benefits of shorter re-calibration times, NSG also gives their customers a full lifetime warranty of all their liquid calibration standards. Basically, if one of NSG's spectrophotometer calibration standards falls out of calibration, NSG will replace the filter free of charge for life.
In today's times, everyone is worried about their budgets and getting the most for their money. In response to this, NSG has provided rock bottom prices for fully NIST traceable liquid calibration standards. NSG uses the same exact materials and methodology that NIST uses, at a fraction of the price. NSG has a ISO 17025 accredited laboratory where they perform all their calibrations for their products.
NSG has also become a world leader in the spectrophotometer calibration field because of their customer service. NSG sales representatives take the time to answer each and every question a client has. Each person who calls or e-mails NSG is treated with courtesy, honesty, and professionalism. NSG has also become famous for their fast replies to customers e-mails.
People from all over the world have benefitted from the tremendous financial savings from NSG's solid-state and liquid spectrophotometer calibration standards. Whether it's the time savings or the money savings laboratories from all over the globe are coming to NSG Precision Cells for their calibration needs.
For people who are looking for more information, please visit the NSG Precision Cells homepage at http://www.precisioncells.com.