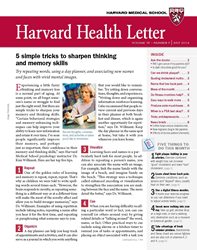 Boston, MA (PRWEB) July 09, 2014
Digital fitness monitors can help track activity levels. They come in wearable styles such as watches and colorful bracelets, as well as pieces that can be clipped onto a sleeve or slipped into a pocket. Choosing the gadget that's best should be based on individual fitness needs, reports the July 2014 Harvard Health Letter.
It's easy to get caught up in the many features available in digital fitness monitors. They may be simple —sensors that track steps or calories; or they may be more sophisticated, like sensors that capture heart rate, perspiration, skin temperature, and sleep patterns. Some have longer-lasting batteries, light-up screens, and alarms that vibrate or flash as a reminder to be more active or to announce that a goal has been reached. Others have satellite navigation, speed and pace sensors, and even weather gauges. Most link to a computer or smartphone so users can chart their progress.
To narrow the field and choose a monitor, ask:

What kind of information will help me reach my personal fitness goals?
Will I wear the monitor on my wrist or clipped onto my clothes?
Is it easy to use?
Can it be charged quickly?
Before setting fitness goals, wear the monitor to get a sense of the current daily step count. "We tell people to shoot for 10,000 steps a day, but if they only take 2,000, set the first goal at 3,000," says Dr. Anne Thorndike, a preventive medicine researcher and assistant professor of medicine at Harvard Medical School. Then use the monitor to track progress throughout the day: if low on steps by dinner, take a walk afterward.
Read the full-length article: "How to know if a digital fitness monitor is worth the money."
Also in the July 2014 issue of the Harvard Health Letter:

Reversing plaque buildup in the arteries
Five ways to fit more walking into the day
Simple tricks to sharpen memory
The Harvard Health Letter is available from Harvard Health Publications, the publishing division of Harvard Medical School, for $16 per year. Subscribe at http://www.health.harvard.edu/health or by calling 877-649-9457 (toll-free).
xxx
Media: Contact Kristen Rapoza at hhpmedia(at)hms(dot)harvard(dot)edu for a complimentary copy of the newsletter, or to receive our press releases directly.