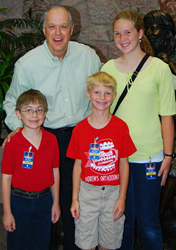 Colorado Springs, Co (PRWEB) June 27, 2014
Three Colorado Springs youths are using their creative skills to fight malaria and help typhoon victims in the Philippines. This week, the youths presented a check to Compassion International, a Springs-based child development ministry dedicated to rescuing children from poverty around the world.
Eight-year-old Kevin Lester made paper bracelets with the name, "Jesus" written on them. "The bracelets also included nail holes to represent the nail holes in Jesus' hands," said Kevin's mother, Nerissa Lester. Kevin gave the bracelets away while encouraging recipients to donate to Compassion's Bite Back campaign, a program designed to provide malaria nets to families around the world. His efforts raised $240 for the campaign—enough to provide nets and malaria education to 13 families.
"In our family bible devotional, we recently read Luke 12:48, which reminded Kevin that to people like him to whom much is given, much is expected in return," said Rob Lester, Kevin's father. "It's great seeing children helping children in an event like this."
Brother and sister team, John and Elizabeth Borders, also created paracord bracelets as a fundraiser for typhoon victims in the Philippines—they raised $444. The money will help families who are still reeling from Typhoon Haiyan, which struck the Philippines in November of 2013, killing over 6,200 people. Compassion ministers to over 70,000 children throughout the Philippines.
"We are always encouraged by how much good young people can accomplish when they unleash their dedication," said Mark Hanlon, Compassion's senior vice president of global marketing and engagement. "These children saw the devastation of natural disaster, saw the impact a preventable disease like malaria can have, and decided to do something about it. By faith, they took action, and families in some of the poorest countries in the world will benefit because of that dedication."
The youth worked alongside their church, Faith Evangelical Free Church of Colorado Springs, to raise the funds.
Compassion International is the world's leading authority in holistic child development through sponsorship. Compassion revolutionized the fight against global poverty by working exclusively with the Church to develop children out of poverty to become responsible, fulfilled Christian adults. It is the only child sponsorship program to be validated through independent, empirical research. Compassion partners with more than 6,200 Christian churches in 26 countries to release over 1.4 million babies, children, and students from poverty in Jesus' name. Compassion has been awarded the highest rating for financial stewardship and transparency for 13 consecutive years by Charity Navigator, America's largest charity evaluator. For more information on the ministry, visit compassion.com or follow them on twitter at @compassion.