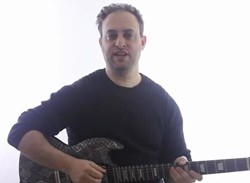 There are four basic techniques you need to know; picking, legato, tapping and arpeggios.
(PRWEB) June 28, 2014
Legato is Italian for "tied together" and in musical terms means that notes are played smoothly and connected with no interval silencing between notes. Legato is achieved on guitar when playing a sequence of notes using hammer on & pull off techniques.
"Shred guitar is just lead guitar played fast," says Johnson. "There are four basic techniques you need to know; picking, legato, tapping and arpeggios." Claude demonstrates legato in this lead guitar lesson in the key of C and uses the seventh degree of the major scale, Locrian, which starts on the B note using three notes per string. Claude starts at the first string and picks the first note and then uses the hammer-on technique for the 2nd and 3rd notes and then descends back to the first note using the pull-off technique and then ends on the 3rd note of the 2nd string and then repeats the sequence starting on the 2nd string and simply repeats this descending all the way down to the 6th string. Claude talks about and demonstrates how important it is to use the picking hand to keep the open strings from ringing out so that the lick sounds clean and articulate. Guitar TAB's are available for this cool lead guitar lesson at GuitarControl.com.
Claude Johnson
Claude Johnson, a native of Philadelphia PA, began playing guitar in 1990 after being inspired by players like Jimi Hendrix, Eric Clapton, and Stevie Ray Vaughn. He is the creator of GuitarControl.com and has helped 1000's of people to learn to play the guitar with his critically acclaimed instructional DVD courses, all available at GuitarControl.com
About GuitarControl.com
GuitarControl.com is the leader in modern guitar instruction. It's packed with recourses including articles, video lessons, and the best videos in the business for the beginner to the advanced guitar student taught by the best instructors out there. Weather you are into the blues, rock, jazz, metal, folk, or anything in between, they have you covered.