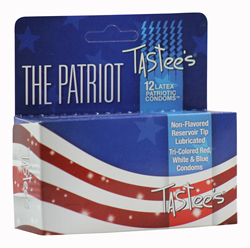 Most people are focused on firework safety, we want people to remember safety during intimacy too
San Francisco, California (PRWEB) June 27, 2014
This season's most spectacular fireworks will be seen in bedrooms across the nation thanks to Tastee's Patriotic Condoms, "The Patriot". The company recently announced the introduction of these red, white and blue tricolored condoms that is sure to have countrymen standing at attention this Fourth of July.
When asked about the company's unique new product, a representative said, "We wanted to make a fun product for the Fourth of July. People may meet new love interests or want to enjoy the day with their significant other, and it's important to be prepared."
He explained that the company's goal is to promote safety. "Most people are focused on firework safety," he said. "We want people to remember safety during intimacy too. The Fourth of July is typically an explosive holiday in more ways than one. People should make sure the fireworks they make in the bedroom don't leave any unexpected or unpleasant mementos." Tastee's prides itself in making condoms that appeal to buyers in hopes of encouraging safe sex.
The Patriot was designed to bring explosive fun to new heights this Fourth of July while still maintaining Tastees's reliability and standards. Since its inception in 1991, Tastee's Condoms has prided itself on quality and committed itself to excellence. Made in America Tastee's Condoms are FDA approved and are consistently tested to exceed international quality and reliability standards.
The company specializes in flavored condoms but brought two new products to the market last summer, Tastee's Naturals and Tastee's Ribbed & Studded Condoms. Plans are also underway to add an Atomic Sour Flavored Condom and a Cannabis Flavored Condom to the company's product lineup in the near future.
Tastee's Patriotic Condoms are currently sold on Amazon and on eBay, however the company is in the process of penetrating new markets and is quickly becoming a widely-recognized brand. Convenience stores, drug stores, grocery stores and health store distributors interested in test marketing Tastees Condoms should contact a marketing representative at the company's headquarters in San Francisco, California.
The Patriot is one of many exciting products you can expect to see from this company! Bring the fireworks home with Tastee's Condoms and celebrate your independence with a bang!