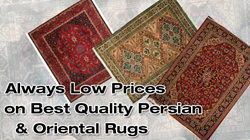 Because Oriental rugs have been made for centuries, age is another important consideration. Authentic handmade Oriental rugs easily last for decades.
Charlotte, North Carolina (PRWEB) July 01, 2014
As part of the summer grand opening of Magic Rugs Inc.'s web store at http://adminrugs.com, the Daryoushfar family is sharing insider advice with the public and home fashion media outlets. This expert guidance will help people select authentic, high quality yet affordable Oriental rugs.
"We have 15 years of experience selling Oriental rugs and want to educate people about how to identify real ones and judge their value," said Ellie Daryoushfar, co-owner of Magic Rugs Inc. located in Charlotte, North Carolina.
Daryoushfar continued, "First, people need to know the difference between authentic Oriental rugs and the cheaper machine-made ones that copy the look of the real ones."
She and her husband with their customer service team have assembled the following information to help people learn about Oriental rugs.
How to identify authentic Oriental rugs:
Genuine Oriental rugs and Persian rugs should have a label on the back stating the country of origin. This is especially true for Persian rugs made in Iran.
Also on the back, the yarn knots must be visible. The artistic pattern on the front of the rug will show through on the back as well. In contrast, a machine-made rug will have a thicker backing and the pattern will not show through.
Many types of patterns and designs are present on Oriental rugs. Common motifs are vases, the tree of life, spirals, paisleys, panels, stripes, and historic monuments. Sometimes the design is simple with a border and a single motif or more complex with repeating patterns.
The materials in a rug are very important for determining authenticity. Oriental rugs are predominantly made of wool and sometimes cotton. Silk antique ones exist but are rare.
"An imitation rug made of synthetic materials will not be nearly as durable as one made from wool," Daryoushfar added.
What to know when buying an Oriental rug:
"It may sound obvious but it's important to measure your space so you can search for the right size," Daryoushfar said.
She continued, "To expand your choices give yourself a bit of a size range from the smallest to largest that will fit."
Knot density is very important. More knots per inch increase the rug's value, durability and luxury. Knot densities on authentic Oriental rugs range from 30 to 400 knots per inch with 400 being a very high-end rug.
"More affordable yet nice options will fall in the middle of that range," Daryoushfar said.
The team at Magic Rugs Inc. offers these tips for understanding the differences between hand-spun and machine-spun wool yarn.
1. Oriental rugs made from hand-spun yarn have a higher value.
2. Hand-spun yarn produces a somewhat uneven look and texture due to natural variations that occur during hand spinning.
3. Machine-spun yarn creates a uniform look and feel across the rug.
4. Oriental rugs made from machine-spun yarn have a lower price.
Daryoushfar also clarified the difference between Oriental rugs with natural dyes and synthetic dyes.
"Rugs with natural dyes cost more but have a somewhat limited color range. Natural dyes make a rug more authentic and pricier. Synthetic dyes however allow for more and brighter colors that offer many beautiful options," she explained.
Because Oriental rugs have been made for centuries, age is another important consideration. Authentic handmade Oriental rugs easily last for decades.
"Oriental rugs 70 years and older are labeled antique rugs and have the highest value if in nice condition," Daryoushfar said. "Older rugs up to 69 years can be called semi-antique. Ones just a few years old are still called new or gently used."
Oriental rugs and Persian rugs are famous worldwide. People have four choices on where to buy them.
Daryoushfar said the brick-and-mortar stores typically stock lower-priced synthetic rugs. They should not be confused with authentic natural fiber handmade rugs.
"A synthetic rug won't last and it won't retain or gain value as it ages," she said.
Outdoor and street markets like flea markets, estate sales, and antique fairs are also places to find Oriental rugs.
Special rug dealers that serve affluent markets are another source. They focus on the finest rugs and most valuable antiques.
Because most towns don't have Oriental rug shops, people find the biggest selection and widest price ranges online. Searching online also gives consumers the most sizes and colors to choose from.
Magic Rugs Inc. now has hundreds of rugs at its new web store including affordable Persian rugs and popular styles like Heriz, Tabriz and Oushak.
About Magic Rugs Inc.
This 15-year-old, family-owned company is a trusted source for Oriental and Persian rugs. It ships rugs for every room and budget worldwide from its rug store at 658 Griffith Road, Suite 119 Charlotte, North Carolina, 28277. People seeking expert advice about Oriental rugs are invited to contact the company via http://adminrugs.com/ or call 704-763-1111.