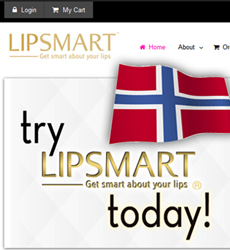 We are pleased to offer a new website to our clients and announce our further global expansion.
Miami, Florida (PRWEB) July 01, 2014
Leading lip volumizer and hydration system offers newly revamped website with new section for beauty tips by founder and CEO Briana Brumer.
Briana Brumer, the founder and CEO of LipSmart, today announced the launch of the company's newly redesigned LipSmart website. The new site features more intuitive navigation and faster responses for consumers, allowing them to access the features most suited to their particular beauty needs. Wholesalers can enjoy streamlined access to bulk purchasing options through the newly updated and redesigned LipSmart website.
A new section has also been introduced that provides lip beauty blog to help guests of the site look their best from head to toe. Briana Brumer will provide her expert advice and opinions in this new feature. Briana's Beauty will offer a wide range of information and resources for LipSmart customers in achieving the right look from going to work to a night on the town.
LipSmart has expanded its international market to include Norway and has proven very popular in this area. This highly effective dry lip treatment is perfect for restoring moisture to chapped lips in cooler climates like those found in Norway. By using the LipSmart lip moisturizer regularly, customers can enjoy silky smooth lips with fewer visible lines and reduced chapping even in wintry weather conditions. Retail and wholesale companies in Norway can make arrangements to distribute LipSmart products by contacting the company directly at info(at)lipsmart(dot)com.
LipSmart was developed by Briana Brumer to resolve issues she experienced with the lip plumpers already on the market. These products irritated Briana's sensitive skin and failed to produce the results she wanted. In response, Briana began researching various ingredients to create a non-irritating lip moisturizer that suited her specific needs. Today, LipSmart is sold at salons and spas around the world as a safe and effective way to enhance and hydrate lips without harsh chemicals that can irritate this delicate skin.
About LipSmart USA
LipSmart is an innovative and effective lip plumping treatment for dry or chapped lips. Developed by Briana Brumer, LipSmart has gained worldwide acclaim thanks to its non-irritating formula and the exceptional hydration it provides for parched lips. LipSmart is available online or from high end retailers, select spas, plastic surgeons, and salons.