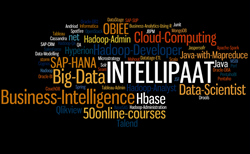 Learners find Intellipaat courses help them to develop latest technology skill-set enabling their career growth: They earn more in short span of time and get into their dream job.
Bangalore,Karnataka (PRWEB) July 01, 2014
Intellipaat, one of the largest IT training providers, has announced the addition of self-paced Apache Hadoop 2.0 training courses for developers, analyst, and administrators. This is the newest addition to their existing Big Data Course curriculum, other than these 14 new courses course on Big Data, Business Intelligence and Cloud technologies has been added.
Intellipaat was founded in July 2011 and, in the span of only 3 years, they have established themselves as the leading provider for big data and business Intelligence trainings across globe, offering a variety of study options including online training, corporate training, and self-paced courses. Intellipaat grabbed approx. 50 corporate clients last year into their portfolio.
A young and dynamic company, Intellipaat has introduced several new courses since their inception and offers over 80 technological courses across different domains. The success of their courses can be seen in the enriching clientele that they have including some of the top corporate houses in India and US, like Genpact, Ericsson,Sony, CISCO, TCS, Wipro, and Tata Communications among others.
One of the achievements that Intellipaat is proud of is the 60,000 professionals who have enrolled themselves on the Intellipaat e-learning portal in 2013, and this includes 20,000 paid users as well. The organization has been able to achieve this thanks to its persistent focus on the USP. Their "USP" is to enable professionals to pursue a career in "Big Data & Other Niche Technologies" by offering them high end technology courses. One of the salient aspects of these courses is the faculty, which comprises of subject matter experts or specialist with more than 18 yrs of experience.
According to Gartner (a global research firm), "Almost 4.4 million new jobs will be created globally in Big Data but the supply of necessary resources will meet less than half the demand."
Intellipaat believes that business intelligence, Big Data and Cloud technologies are the next big things in future and it is their endeavor to bridge the gap between the demand and supply. The company has placed a lot of emphasis on providing high quality training with real world scenarios along with domain example, so that professionals can understand their utility in their current industry of work.
Intellipaat Courses
Currently, Intellipaat offers 18 self paced online e-learning courses focusing on niche business intelligence technology like Tableau, Penthao, Qilkview, OBIEE, Talend, Hyperion Reporting, Spotfire, Jasper, MSBI, Cognos, SAS, Microstrategy, Data Stage, Openstack, SAP HANA, and Jaspersoft. According to Diwakar Chittora (CEO-Intellipaat), approx. 50 new courses will be added by end of July 2014. Intellipaat vision is to "train professional across the globe at lowest price with high quality course content".
The company has also focused on the cost factor and made efforts to keep the course fee as reasonable as possible. Professionals can choose from several self paced courses with course fee varying from $60 to $400. According to Diwakar Chittora CEO - Intellipaat, "Online training market in India and US is unorganized and there are multiple big players like Cloudera, Udemy, and Udacity but the problem lies in the fact that either the cost is very high or the training being delivered is at basic level."
Hence, the vision of Intellipaat is to provide advanced technical expertise to professionals across the globe at lowest possible prices – it is all about niche technology with high quality.
Salient highlights of Intellipaat courses: a) All courses offered by Intellipaat are focused on clearing technology certification. This, in turn, will not only help IT professionals to gain confidence but will also improve their chances of landing into better job. b) These courses have been specifically created to help IT professionals gain in-depth knowledge on what business intelligence technology is and how they can implement it in various projects. This knowledge and training will also help them to switch over from their current jobs to their choice of new technology field. c) Every course have Quiz to provide better understanding of the course and to check subject knowledge understanding. d) There are multiple exercises with solutions to get better overview of technology with real industry use cases. e) Free 1 month cloud instance access to practice for big data Hadoop Courses.f) Intellipaat currently offers 13 free courses to help the community to gain and upgrade on latest technologies. The aim is to enable IT professionals to keep them up to date with market trends and new technologies at no cost.