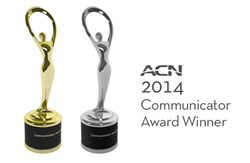 Being recognized on such a prestigious level seven times over is certainly rewarding – and further proof of a job well done.
Concord, NC (PRWEB) June 30, 2014
In late April, ACN, Inc. received seven prestigious Communicator Awards, which honor work that transcends innovation and craft – work that made a lasting impression.
ACN was among over 6,000 entries from companies and agencies of all sizes in the 2014 competition. ACN received the Gold Communicator Award – an award of Excellence – for ACN's Corporate Website and six Sliver Communicator Awards – an award of Distinction including:
1. ACN's 20th Anniversary – Motivational Video
2. Your Business Assistant – Direct Marketing Video
3. ANC's Corporate Site – Homepage
4. ACN's QR Code Site – Microsite
5. ACN's Corporate Profile – Identity Manual and Style Guide
6. From the Presidents Blog – Business Blog
"When we set out to do something, we always plan to do it well," said ACN President and Co-Founder Greg Provenzano. "But it's not about receiving awards; it's about representing our company well and providing the best possible tools for our Independent Business Owners. However, being recognized on such a prestigious level seven times over is certainly rewarding – and further proof of a job well done."
The Communicator Awards is sanctioned and judged by the International Academy of Visual Arts, an invitation-only group consisting of top-tier professionals from acclaimed media, communications, advertising, creative and marketing firms.
About ACN Inc.
Founded in 1993, ACN is the world's largest direct seller of telecommunications, energy, and other essential services for residential and business customers. ACN provides the services people need and use every day including Digital Phone Service, Local & Long, Distance, Wireless, Energy, Television, Home Security & Automation, High Speed Internet and Technical Support. ACN operates in 24 countries with offices located throughout North America, Europe, Asia and the Pacific. For information on ACN's home-based business opportunity, visit acninc.com.
About AIVA:
Founded in 2001, the Academy was launched as the International Academy of Visual Arts to bring together leading industry professionals with a shared passion for the arts and an understanding of the importance of recognizing the best creative work in the world. In early 2014, the Academy underwent a rebrand, changing its name to the Academy of Interactive and Visual Arts (AIVA) to reflect the integrated and connected nature of traditional and interactive media as they continue to rapidly evolve. Now, a diverse group of 600+ members from all 50 states and 15 countries worldwide, the AIVA's core principles remain the same as we continue to honor, promote and encourage creativity by providing a benchmark standard of excellence for evaluating media design, production and distribution. For more information about AIVA, visit aiva.org.