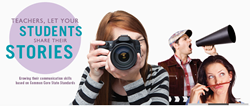 Sarasota, FL (PRWEB) July 01, 2014
Ringling College of Art and Design will be presenting the 2014 RING AWARDS on July 23, 2014 at the Academic Center Auditorium at 4:00. The Academic Center Auditorium is located on the Ringling College campus. The address is 2700 North Tamiami Trail Sarasota, FL 34234. The event is free and open to the public.
The RING AWARDS Storytelling Contest, hosted by Ringling College of Art and Design, is a national competition intended to help students, grades 7-12, meet the challenge of communicating through a variety of media in this new century.
The theme of the contest was inspired by Sharon Robinson's best selling book Under The Same Sun. Middle and high school students nationwide submitted their interpretation of what "Under the Same Sun" meant to them in the form of a photo, illustration, or video along with supporting text. The six grand prize winning students from AZ, FL, NJ, PA, TN, and TX will be honored at the awards ceremony.
Special guest Sharon Robinson, Scholastic Press author and daughter of baseball legend Jackie Robinson, along with Ringling College of Art and Design president, Dr. Larry Thompson, will present the Ring Awards to the 2014 national student winners.
To see the winners' entries, please visit the Winners Gallery at http://www.TheRingAwards.com.
Ringling College of Art and Design is a private, not-for-profit, fully accredited college located in Sarasota, FL, and is recognized as being among the best visual arts colleges in the United States. http://www.ringling.edu
For additional information about the contest, the winners, or future contests from Ringling College, please contact marketing via email marketing(at)ringling(dot)edu.