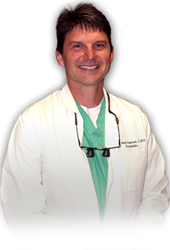 Oxford, MS (PRWEB) June 27, 2014
Dr. J. Michael Robertson is pleased to announce that his practice is currently expanding to bring the LANAP® laser protocol, a revolutionary gum disease treatment, to Oxford patients. LANAP® treatment is a safe, effective gum surgery alternative that has the ability to selectively target and remove infection that results from moderate to severe cases of periodontal disease. The procedure results in little to no gum recession, a common side effect of other treatment options.
Periodontal disease is caused by an infection between the teeth and gums. Unless local patients receive an effective gum disease treatment in Oxford, the illness can progress quickly, resulting in loose or lost teeth and jaw bone degeneration. Periodontal disease has also been linked to cancer, heart disease, preterm labor, and many other health problems. LANAP® treatment is able to stop the progression of periodontal disease in one to two visits by utilizing this FDA cleared laser treatment available to northern Mississippi patients.
Instead of cutting out the infected tissue, Dr. Robertson uses the PerioLase® MVP-7™ laser to clear away the diseased gum tissue and bacteria lining the periodontal pockets. The laser is safe to use in these applications due to its selective settings which are set to only affect diseased tissue. This gum surgery alternative permits healing and regeneration of gum tissue and results in minimal pain, less bleeding, and a quicker recovery than found after other treatments. After the procedure, unharmed healthy tissue is able to reattach to the roots of the teeth once more with a strong bond. This gum disease treatment in Oxford also stimulates bone regeneration and healthy root function which can help patients keep their existing teeth, even after a severe case of periodontal disease.
While the LANAP® protocol has some great advantages over other treatment options, one of the most notable is the time required for treatment. This gum surgery alternative only takes a few hours, requires no anesthesia or strong medications, and most patients are able to return to work and regular activities in one day or less. Patients who are interested in learning more about LANAP® laser treatment can contact Dr. Robertson's office to schedule an appointment.
About the Doctor
Dr. J. Michael Robertson is a periodontist offering personalized dental care for patients in Tupelo, MS. Dr. Robertson received his B.A. from the University of Mississippi as a chancellor and Dean's List scholar, and his D.M.D. from the University of Mississippi School of Dentistry. He earned his certificate in periodontics from the University of Alabama. Dr. Robertson is part of one percent of dental professionals providing the LANAP® FDA cleared laser procedure for gum disease and periodontal treatment. To learn more about Dr. Robertson and his dental services, visit his website at http://www.northmsperio.com and call (662) 269-1317.