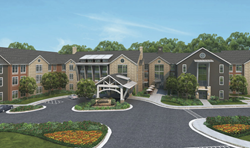 This community (and its sister communities underway nearby) will be a drastic departure from what most people think of when senior living comes to mind. - Jeramy Ragsdale, CEO of Thrive Senior Living
Gainesville, VA (PRWEB) July 01, 2014
Thrive Senior Living broke ground today on The Tribute at Heritage Village, a 128 unit Assisted Living and Memory Care community in Gainesville, VA. This is the first of a portfolio of projects that Thrive is beginning in the metropolitan Washington, DC market. The projects are joint ventures with Harrison Street Real Estate Capital, an industry leader in senior housing investment, and Palomino Capital, a Dallas, TX-based venture specializing in platform-based growth investments.
Seeing an opportunity to take advantage of a dense market with high 'barriers to entry' caused by a lengthy real estate entitlement process, Thrive has targeted the metropolitan Washington, DC market as a part of its growth platform. Continued demographic demand growth, coupled with a lack of new and innovative competitors, makes the lengthy, expensive, and sometimes difficult process a worthwhile endeavor. According to John Toomay – President of Palomino Capital, "Overcoming obstacles in order to have the opportunity to change the landscape of senior living in such a dynamic market is an incredible opportunity."
The Tribute at Heritage Village is a unique opportunity, located at the front entrance of Heritage Hunt, a vibrant 55+ active adult community with an active social scene, golf and tennis club, and a resident base that desires to continue to be socially engaged in their community and maintain an amenity rich lifestyle after their need for care grows. The community will feature two restaurant dining venues, a spa, a fitness center featuring state-of-the-art digital equipment specifically designed for seniors, doctors office, tele-medicine suite for virtual healthcare, movie theater, salon, rooftop terraces with horizon views and outdoor fireplaces, walking trails, and much more. The community will also feature a completely separate and dedicated Memory Care neighborhood, offering the same quality experience to residents with dementia, in a secure environment. Memory Care residents will be continually engaged with innovative programming and unique technology, creating an environment that fosters cognitive improvement and encourages moments of connection between residents and their friends and family.
At the groundbreaking ceremony held onsite on June 26th, over 200 attendees, including many residents from the local neighborhood, expressed their excitement for the project. Since the project's inception, Thrive has worked with neighboring residents to help design the building, taking into account what local residents feel is best for their area. "We have worked with the neighborhood residents for almost 2 years now, and are thrilled to finally become a part of it. This community (and its sister communities underway nearby) will be a drastic departure from what most people think of when senior living comes to mind," said Jeramy Ragsdale, CEO of Thrive Senior Living. Prince William County Supervisor Pete Candland stated that, "it's so exciting to have a company that truly desires to partner with the community in this way."
Thrive's unique and non-traditional approach currently sets them apart as an innovative leader in senior living. With a top priority of improving resident quality of life through intelligent design and innovation, Thrive has seen unprecedented recent growth. Thrive uses an astonishing suite of technology in order to discretely provide best-in-class care to residents in a resort-quality environment. As an example, the Tribute at Heritage Village will be entirely keyless, utilizing RFID technology to allow residents access to their homes without the use of a key. Also, Thrive has partnered with global technology leader LG to develop a Smart Senior Living platform which combines electronic health and medication records, and all-digital charting and record-keeping system. Instead of a complex system of paper charts or even laptop computers, care staff simply use a handheld device, freeing up more of their time to provide hands-on care to residents. The system also allows excellent transparency and accountability for care to the resident and their physician – a true rarity in the assisted living industry.
Construction of the Tribute at Heritage Village is slated to be complete in September, 2015. More information is available at: TributeSeniorLiving.com, or on Facebook (Tribute at Heritage Village) or Twitter (@tributeheritage).
About Thrive Senior Living: Thrive Senior Living is a new and rapidly growing operator with a business model focused on improving resident quality of life through intelligent design, innovation, and accountability. With locations across the southern US, Thrive is continuing to expand and has recently announced a partnership with LG, one of the world's leading technology companies, to develop a suite of solutions uniquely tailored to the assisted living industry. For more information on Thrive Senior Living, visit: http://www.thriveseniorliving.com.