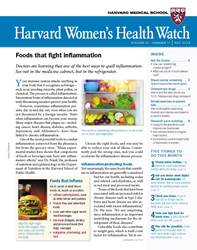 Boston, MA (PRWEB) July 15, 2014
One of the most powerful tools to combat inflammation comes from the grocery store, not from the pharmacy, according to the July 2014 Harvard Women's Health Watch.
"Many experimental studies have shown that components of foods or beverages may have anti-inflammatory effects," says Dr. Frank Hu, professor of nutrition and epidemiology in the Department of Nutrition at the Harvard School of Public Health.
Good choices include fruits and vegetables such as blueberries, apples, and leafy greens that are high in natural antioxidants and polyphenols—protective compounds found in plants. Studies have also linked eating nuts with less inflammation and a lower risk of cardiovascular disease and diabetes. Coffee, which contains polyphenols and other anti-inflammatory compounds, may also protect against inflammation.
Not surprisingly, foods that boost inflammation are generally considered bad for health, including sodas and refined carbohydrates, as well as red meat and processed meats.
"Some of the foods that have been associated with an increased risk for chronic diseases such as type 2 diabetes and heart disease are also associated with excess inflammation," Dr. Hu says. "It's not surprising, since inflammation is an important underlying mechanism for the development of these diseases."
Read the full-length article: "Foods that fight inflammation"
Also in the July, 2014 issue of the Harvard Women's Health Watch:

Breast cancer screening options beyond the mammogram
Which osteoporosis drug is right for you?
Simple exercises to prevent falls
Harvard Women's Health Watch is available from Harvard Health Publications, the publishing division of Harvard Medical School, for $20 per year. Subscribe at http://www.health.harvard.edu/newsletters/womens or by calling 877-649-9457 (toll-free).
XXX
Media: Contact Kristen Rapoza at hhpmedi(at)hms(dot)harvard(dot)edu for a complimentary copy of the newsletter, or to receive our press releases directly.