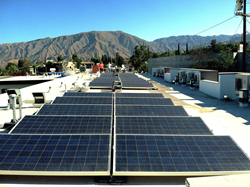 By adding solar to the development, we're bringing operating costs down, which is great for the owner and the residents.
Los Angeles, CA (PRWEB) June 30, 2014
It's a hot summer day in Sun Valley, and Promise Energy has just completed a large solar installation on a new building at the base of the Los Angeles National Forest. Banks of blue panels stretch across the roof, lightly coated in construction dust, waiting to be turned on.
This is not an upscale residence or a company headquarters. Located at the end of a quiet street, the Day Street Apartments were developed by LA Family Housing to provide much-needed affordable housing and supportive services to formerly homeless residents of the area.
With a courtyard shaded by olive trees, hallways lit by skylights, natural wood finishes, and landscaping dotted with boulders reclaimed from the site's ancient riverbed, it's not what you might expect from affordable housing. Many of the site's sustainable features are natural and subtle; but the computer room, basketball court, and gleaming solar array on the roof leave no doubt this is a modern, high-tech project.
Designed by award-winning Gonzalez Goodale Architecture, and completed by affordable housing experts Walton Construction, the 45-unit LEED Gold project features a 12-collector solar water heating system and 36 kilowatts of photovoltaic panels installed by Promise Energy.
In the highly competitive market for Low-Income Housing Tax Credits, investing in energy efficiency and renewable energy on multifamily housing projects can reduce operating expenses and utility costs. This helps keep housing affordable for low-income families; and provides longer-lasting, more self-sufficient projects for portfolio managers.
Keon Montgomery is the Director of Housing at LA Family Housing: "By adding solar to the development, we're bringing operating costs down, which is great for the owner and the residents because it makes the building a stronger asset. And we're able to afford repairs and sustain the building at a high level for the foreseeable future."
"This is the 2nd LEED project in our portfolio," says Montgomery. "Not only does Day Street have solar hot water and PV, we've added in drought tolerant landscaping, and recycled the river rock and boulders we excavated during construction. We've also installed energy efficient appliances and water conserving faucets in the units. We're very excited to be adding this building to our portfolio."
"In an industry where solar is becoming standard on all new construction projects, groups like LA Family Housing are leading the way by creating sustainable, affordable projects that provide extraordinary benefits to residents and communities," says Adam Boucher, CEO of Promise Energy. "We are proud to work with highly experienced contractors like Walton Construction, and cutting-edge architects like Gonzalez-Goodale to help LA Family Housing bring clean, sustainable energy to affordable housing."
"It is very rewarding to know that this project will make a real difference in the lives of people who need it most," says Andy Mannle, VP of Strategic Development at Promise Energy. "We are not only reducing energy usage and greenhouse gas emissions, we're also helping ensure that high-quality affordable housing will be available in this community for years to come."
About Promise Energy:
Promise Energy Inc, is a full-service solar solutions provider, delivering integrated financing, design, and installation for multifamily and commercial projects throughout California and the Western United States. Promise Energy partners with building owners and residents to save energy and reduce operating expenses, with solar water heating and solar photovoltaics. The company is currently working on solar for over 2000 units of affordable housing across Southern California, as well as other market-rate and commercial projects. The 12-collector solar water heating system at Day Street Apartments will offset 50% of the natural gas otherwise used to heat water each year—equivalent to saving 10,000 pounds of coal each year. The 36 kW PV system on this project will produce over 55,000 kilowatt-hours of emission—free electricity each year—equivalent to preserving 28 acres of forest annually. To find out more, contact us at http://www.promiseenergy.com.