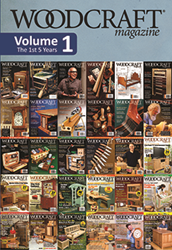 This jam-packed CD features a PDF format that allows you to print any story from any issue.
PARKERSBURG, W. VA. (PRWEB) June 30, 2014
The first 31 issues (five years) of "Woodcraft Magazine" are now available on CD-ROM in an easy-to-navigate digital format.
"This is an excellent value," publisher Gary Lombard said. "For a little over the price of three individual copies, you can purchase five years of issues that are easily accessed on a computer. The CD is part of our continuing effort to deliver 'Woodcraft Magazine's' high quality content to woodworkers in a format that meets their needs."
Editor-in-chief Jim Harrold agrees. "This jam-packed CD features a PDF format that allows you to print any story from any issue. Because viewing is on a computer screen, the size of print, photos, and illustrations may be enlarged to suit the user's needs. Imagine having that capability for over 100 projects, all fully dimensioned and supported by illustrations, how-to photos, and cut lists, along with hundreds of techniques, shop tips and product reviews – all at your fingertips."
From the P.O. Box Coin Bank featured on the cover of Issue 1 to the Arts and Crafts Blanket Chest on Issue 31's cover, the viewer will find a variety of projects to build, turn, and carve, including large furniture pieces (cupboards, bookcases, tables, chests, chairs) outdoor furniture (garden bench and matching planter box, porch swing, arbor and gate), smaller pieces (boxes, turned bowls, mailbox signs, power-carved trout), and one complete issue (29) of projects to build a workshop. Six projects from Scott Phillips, co-host of "The American Woodshop" with his wife, Suzy, are also included.
"In addition to projects," Harrold said, "issues also include techniques to help woodworkers with tasks such as finishing and joinery, information about new tools and accessories, and, beginning with issue 19, an article from the 'America's Top Shops' series."
Work on a Volume 2 CD-ROM for years 6-10 is already underway, Harrold said.
To order or learn more about "Woodcraft Magazine, Volume 1: The 1st 5 Years," call (800) 542-9125 or visit http://www.woodcraftmagazine.com.
In addition to publishing six issues a year, available in both print and digital formats, "Woodcraft Magazine" maintains two lines of woodworking plans – Classic® Project Plans and Classic® Shop Plans, and has published three how-to books with more to come. Magazine project and technique downloads are also available online, and a "Woodcraft Magazine" app allows the user to subscribe or purchase single issues. To learn more about the magazine, visit http://www.woodcraftmagazine.com and http://www.facebook.com/woodcraftmagazine.
Woodcraft Supply, LLC, parent company of "Woodcraft Magazine," launched the woodworking publication with a December 2004/January 2005 issue. The first year is unique in that a seventh "Holiday 2005" issue was published for December distribution.