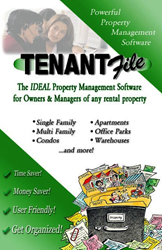 Our customers will benefit from greater knowledge of the tools available.
Austin, TX (PRWEB) June 27, 2014
The Tenant File Property Management Software and its affiliated websites serve the real estate industry. Brokers, agents, real estate investors, property managers, and rental property owners are all part of the Tenant File customer base. As part of their effort to improve awareness of social media practices, they have released several articles and blogs focused on social media for real estate related companies. These include tips for Facebook, Twitter, YouTube, LinkedIn and Pinterest plus others.
Wayne Gathright, president of W G Software, Inc which owns the Tenant File says, "Since printing and advertising costs are higher than ever and digital marketing is growing exponentially, we see the value in converting from the old ways of marketing. Our customers will benefit from greater knowledge of the tools available."
Topics include reaching the maximum audience for the product or service that a company offers, how to manage social media time wisely, and how to stand out from the crowd.
The Tenant File's own audience has expanded through the regular release of helpful articles, blog posts, infographics, tweets, and other social media involvement.
About the Tenant File
The Tenant File is a leading desktop property management software. It is used by thousands of property managers and owners of rental property. It also operates a number of related websites such as RentalHomesAvailable.com, RealEstateAvailable.com, and ApartmentRentalsAvailable.com.