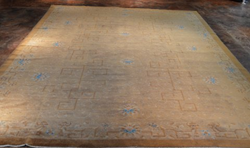 Dallas, TX (PRWEB) June 27, 2014
Behnam Rugs is excited to announce that they are now offering a new service to help customers sell their unwanted antique rugs. Rug owners now have the option to have Behnam Rugs refresh, wash, restore and repair their loved rugs and help them find a new owner to buy or adopt the unwanted rugs.
Through their many years of experience selling and servicing fine rugs, Behnam Rugs has noticed that customers sometimes need help selling their fine rugs. Finding the perfect rug was likely not an easy task, and most customers invest a lot of money and time picking out the right rug for their home.
When customers move houses, they often realize they do not need a rug for the new house. Some customers may inherit rugs that do not fit a room by size, color or design. If this is the case, Behnam Rugs new service can help customers sell these fine, unwanted rugs. As a rug dealer and hand washer of rugs, Behnam Rugs is now offering rug owners the option of getting their rugs refreshed, washed, restored and repaired in order to find a new owner for the unwanted rug.
After the rug has been hand washed and restored, Behnam Rugs will digitally photograph their valuable rugs, post it with a full description and identification of the rug, including country of origin, design, age, colors and value. This information will also be blogged, posted and publicized through social media campaigns on Pinterest, Twitter, Facebook, Instagram and on their website at http://www.behnamrugs.com/.
In order to find the perfect owner, Behnam Rugs needs customers to provide the rug's unique history and sentimental value. Behnam Rugs hopes to find a new family to enjoy the rug just as much as each customer's family has and for that new family to enjoy the rug for many years to come.
Also, if customers desire to donate their rugs to a charitable organization, church or school Behnam Persian Rug Cleaner will provide and prepare the proper I.R.S. form to make their valuable donation tax deductible.
To learn more, contact Behnam Rugs today by calling 972-733-0400 or visiting http://www.behnamrugs.com/.
<br>About the company:<br>Since 1978, Behnam Rugs has been cleaning and restoring the finest handmade rugs from all over the world. Their goal is to safely and gently hand-wash rugs in order for them to maintain the style, beauty and luster. Behnam Rugs hand washes and repairs many types of rugs from hand-made wool and silk, to machine-made rugs. They also sell rugs from around the world. With over three generations of experience, Behnam Rugs offers options starting with the traditional Persian hand-washing process with organic shampoos and conditioners made special to maintain the life of rugs. They recommend that owners of antique rugs use their special services to retain the value in their investment and restore their rugs to pristine condition for years to come.