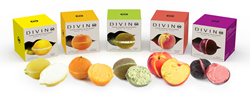 A handcrafted and all natural Italian specialty.
New York, NY (PRWEB) June 28, 2014
With its recent arrival to the U.S., Divino is now offering, for the first time, its All Natural Gelato Filled Fruit this summer at the Fancy Food Show in New York City. A beloved Italian specialty for decades, and widely popular in the U.K., Divino's exquisite treats are ready to delight America's most discerning foodies.
Event participants will be able to experience Divino's single serve collection, Indulgenza, of five individually packaged gelato filled fruits. Each box contains one full gelato filled fruit, a spoon, and its own serving case. Flavors include: Amalfi Lemon, Apulian Peach, Black Diamond Plum, Ciaculli Tangerine, and Roman Kiwi, all of which are fat-free, gluten-free and non-GMO and are now available nationwide.
Each dessert is handcrafted from all natural and locally sourced ingredients from the mineral-rich volcanic soil in Italy's Amalfi Coast. The pulp of each hand-picked fruit is removed and created into a delicious gelato or sorbet, which is then returned to its original fruit shell. The fruit is then flash-frozen to preserve freshness, resulting in a splendid gem as gorgeous as it is delectable.
Having won taste and innovation awards at European fairs including TuttoFood in Milan, Specialty & Fine Food Fair, BBC Good Food Show in London, and SIAL in Paris, Divino is now available to grocery and food service nationwide.
For more information about Divino please visit http://lovedivino.com/ or visit us at our Fancy Food Show Booth #5234.
Like us on Facebook at https://www.facebook.com/hellodivino
And follow us on Twitter at https://twitter.com/hellodivino