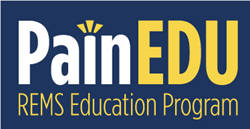 Our program covers all aspects of the FDA's Blueprint for Opioid REMS Education.
Newton, MA (PRWEB) June 30, 2014
Inflexxion, Inc., a behavioral health technology company, is pleased to announce the launch of the PainEDU REMS Education Program. This CME activity helps clinicians make more-informed decisions about their patients' pain care when extended-release and long-acting (ER/LA) opioid analgesics are an appropriate component of therapy.
In 2011 the Food and Drug Administration (FDA) announced the elements of a Risk Evaluation and Mitigation Strategy (REMS) to help ensure the benefits of ER/LA opioids outweigh the risks. As part of this REMS, all manufacturers of ER/LA opioids are required to collaboratively offer education for prescribers of these medications. The education will come in the form of certified continuing education (CE) activities supported by independent educational grants from the ER/LA Opioid Analgesic REMS Program Companies.
Inflexxion, in partnership with Montefiore Medical Center and Albert Einstein College of Medicine, was awarded one of these highly competitive grants. The funding enabled Inflexxion in collaboration with EINSTEIN, to develop the PainEDU REMS Education Program, which consists of three one-hour CME activities totaling 3.0 AMA PRA Category 1 Credits™.
The PainEDU REMS Education Program delivers guidance on controlling pain safely, minimizing adverse effects (e.g. addiction) and avoiding negative outcomes (e.g. overdose, death). It complements Inflexxion's PainEDU.org, the leading non-promotional online education resource for clinicians treating patients with chronic pain.
"Our program covers all aspects of the FDA's Blueprint for Opioid REMS Education," says Kevin L. Zacharoff, MD, Inflexxion Vice President of Medical Affairs. "By participating in this educational activity, healthcare providers will gain a greater understanding of how to use ER/LA opioids to treat patients with pain in a responsible and safe manner. While the content is directed toward prescribers of ER/LA opioid analgesics, it is also relevant for other healthcare professionals."
To complete this CME, please visit https://rems.painedu.org. If you are interested in using the PainEDU REMS Education Program within your practice or system, please email rems(at)painedu(dot)org or call 617-614-0444.
About Inflexxion
Founded in 1989, Inflexxion develops scientifically based, interactive technologies and collects critical data that help people better their lives through behavioral change. Partners and customers rely on Inflexxion for online programs that reduce health-related risks, enhance clinical outcomes and positively influence quality of care. In addition, healthcare organizations and regulatory authorities use Inflexxion's comprehensive databases to help improve care and inform public policy. Inflexxion has received over $65 million in grant support from the National Institutes of Health and Small Business Innovation Research Program.