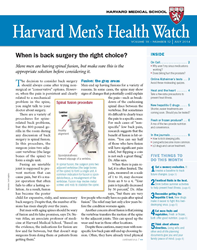 Boston, MA (PRWEB) July 11, 2014
When the mercury rises, heat can strain the limits of the body's cooling system. Its driving engine, the heart, takes on a heavier load in hot weather to keep body temperature within norms, reports the July 2014 issue of the Harvard Men's Health Watch.
For otherwise fit, active men, handling the heat requires no more than knowing their limits and drinking enough fluids. But what about men with heart conditions? "They are going to be more sensitive to the heat," says Dr. Joanne Foody, Director of cardiovascular wellness services at Harvard-affiliated Brigham and Women's Hospital. "They may just need to limit their activities to a greater degree."
High temperatures can put a man with heart issues at higher risk of heat exhaustion or heat stroke. In addition, certain heart medications like beta blockers, diuretics (water pills), and nitroglycerin—can lower tolerance to heat.
Men concerned about the hazards of heat should discuss it with their doctors, Dr. Foody advises. "This is particularly important when they go on vacation and try to do activities they are not used to doing in a warm climate."
Here are some simple precautions for dealing with hot weather:

Whatever is normal activity in cooler weather, take it down a couple of notches in the heat.
Schedule outside activities for the morning or early evening, if possible.
Drink extra fluids before outside activities. Plain water is best; special sports drinks or fitness waters offer no extra benefit to non-athletes.
At the first sign of trouble, get to a cool place and drink fluids.
Warning signs of heat stress include muscle cramps, fatigue, weakness, confusion, light-headedness, nausea, labored breathing, chest discomfort, and a rapid or erratic pulse.
Read the full-length article: "Hearts and heat: Take common-sense steps to stay safe this summer."
Also in the July 2014 issue of the Harvard Men's Health Watch:

Do long bike trips hurt the prostate?
Online memory tests that misinform and mislead
Time to get tested for hepatitis C infection
Fresh or frozen produce: What's most healthy?
The Harvard Men's Health Watch is available from Harvard Health Publications, the publishing division of Harvard Medical School, for $20 per year. Subscribe at http://www.health.harvard.edu/mens or by calling 877-649-9457 (toll-free).
XXX
Media: Contact Kristen Rapoza at hhpmedia(at)hms(dot)harvard(dot)edu for a complimentary copy of the newsletter, or to receive our press releases directly.