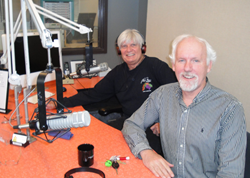 Corrales, New Mexico (PRWEB) June 30, 2014
The Southwestern Wine Guy, Jim Hammond, has broadened his coverage of "home grown" libations with his radio show, "The Spirits of New Mexico" which features stories and information celebrating wine, beer and distilled spirits, created by local crafters in New Mexico. Joined by sommelier and wine expert, Tom Molitor, Hammond brings in award-winning brewers, vintners and distillers to talk about their craft. Those serving up libations at restaurants and bars share their knowledge and perspectives on living the good life in New Mexico.
"The Spirits of New Mexico" airs every Saturday evening at 5:00pm as part of the "Drinks, Dinners and Diversions" line up on Albuquerque's The Rock of Talk, (KIVA 1600AM and Live! 95.9FM) and offers listeners an insider's look at all aspects of the spirit industry, through the eyes of those who are involved in the production, dispensing, serving and critiquing of local beer, wine and spirits.
The interest in home-grown spirits is strong and growing; currently there are 48 wineries, 38 breweries and 3 distilleries in New Mexico and the numbers are increasing.
"Tom Molitor is a great asset to the radio show," said Eddy Aragon, GM of The Rock of Talk. "He and Jim work well together to provide an entertaining and informative look at the wine, beer and spirits scene in the state."
About Jim Hammond
In addition to "The Spirits of New Mexico, Jim Hammond covers New Mexico wines in a wine blog (SouthwesternWineGuy.com/blog), and he also offers news and insights as the "Albuquerque Wine Examiner" on Examiner.com. He is a wine columnist for ABQ Free Press and provides wine and beer pairing ideas to go along with featured recipes in New Mexico Magazine. Hammond is available to speak on New Mexico spirits and also provide creative seminars or events to help people understand and appreciate New Mexico spirits. Contact him at spirits(at)jim-hammond(dot)com, visit his website, TheSpiritsofNewMexico.com, or call him at 505-264-9123. The Spirits of New Mexico is active on Facebook, Twitter (#TSpiritsofNM) and LinkedIn.
About Tom Molitor
Tom Molitor is a certified sommelier and was recently the first runner-up in Albuquerque The Magazine's "Best Sommelier Competition 2014." Thomas is also an avid home-brewer, crafting world-class styles of beer in his garage. Currently, Tom is studying in the Cicerone Certification Program, the industry standard for beer knowledge and service. He is available for wine and beer list consultation and event planning be it private parties, restaurants, or corporate events. Contact Thomas at 505-553-3150, or at tgmolitor(at)comcast(dot)net.