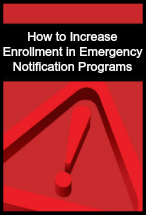 Download today to better ensure members can be reached during a crisis
San Francisco, California (PRWEB) June 30, 2014
Regroup, the leading provider of Emergency Notification and Mass Communication solutions, has published an important white paper entitled "How to Increase Enrollment in Emergency Notification Programs". Recognizing the challenges that organizations face in achieving a maximum percentage of member participation, Regroup's white paper offers many easy steps for more effectively promoting these lifesaving programs and increasing registration to better ensure members can be reached during a crisis.
You can download the white paper by clicking here and if you have any questions, please contact Regroup at the telephone number or email address listed below.
As Regroup's paper clearly shows, when proactive measures are taken and an efficient Emergency Notification System is put into place, increasing awareness of and enrollment in emergency notification programs does not have to be a time-consuming, arduous task. Highlights include:
+ Common reasons why many are reluctant to sign up for emergency notifications with strategies for addressing those concerns
+ Tips for effectively promoting emergency notification programs and creating awareness of the importance of registering for emergency alerts
+ How to utilize an Emergency Notification System for ongoing awareness & enrollment
+ Bonus tips for ensuring emergency contact information is kept up-to-date and accurate
While there's no one-size-fits-all solution for increasing enrollment in emergency notification programs, Regroup's white paper offers organizations many viable methods for achieving maximum enrollment. When combined with existing procedures, following these guidelines can result in a winning enrollment strategy to better safeguard an organization's most important assets: Its stakeholders.
About Regroup:
Regroup, the leading Emergency Notification and Incident Management System, was founded at Stanford University in 2006 to solve the need the campus had for more effective mass messaging across multiple communication channels, i.e., mobile devices (text/voice), landlines, email, social media, websites, forums and more. Regroup stands apart from other mass communication systems with its user friendly one-click messaging from a unified communication dashboard, integration with social media and client databases, real-time two-way messaging capabilities, unparalleled reliability and unlimited text/voice/email messaging.
Regroup offers 24/7/365 day a year live support and saves clients money - on average 50%. Currently serving government clients such as the City & County of San Francisco, universities, non-profits and businesses throughout North America, Regroup is actively expanding in global markets.
To learn more about Regroup's Emergency Communication and Mass Notification System contact us at 917-746-6776 or email inquiries(at)regroup(dot)com. You may also sign up for a free demo to see Regroup in action and learn how we can streamline both your day-to-day and crisis communications.