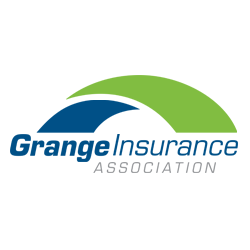 It was time to refresh our brand to match our extensive capabilities.
Seattle, WA (PRWEB) July 02, 2014
Grange Insurance Association has unveiled a new logo and a new website that draws on the company's 120-year heritage while bringing the brand into the present and connecting with its future.
"Our company has a long history and extensive underwriting experience in farm lines," stated Ryan Dudley, President and CEO of Grange Insurance Association. "Yet not enough people are aware that we also offer competitive auto and home solutions throughout six Western states. It was time to refresh our brand to match our extensive capabilities."
The new logo and new website design are the result of an in-depth brand evaluation undertaken by Grange Insurance Association earlier last year. Vice President of Marketing Steve Stogner says that while the company's look has evolved, its brand promise remains steadfast: "We care about the people and communities we serve and are committed to building strong and successful partnerships."
To help guide internal actions and ensure brand consistency at every touch point, Stogner and his team defined perspective, performance, partnership and people as Grange Insurance Association's brand pillars, or principles. "They help make sure that we are all on the same page and give us a way to evaluate our daily actions and activities."
As for the company's visual identity, the new logo was designed to represent a bridge between the company's agricultural roots and its future as a financially strong and growing regional mutual insurance company. The arc of the bridge represents a hill that reflects Grange's roots which date back to 1894. It also evokes a road to represent Grange's auto division. The entire logo provides shelter like a home over the logotype in a symbolic statement to policyholders that "Grange Insurance Association has you covered."
The logo also implies movement, advancement and forward thinking—all of which were factored into the consumer-friendly and agent-friendly structure of the new website. In both, the color blue infers stability, trust, confidence, security, loyalty and leadership. Green represents nature, life, safety, growth and well-being. These characteristics describe Grange's products and services as well as the personality of the company and its people.
"We're very excited about the changes," noted Dudley. "They reflect our corporate values and our ongoing commitment to 'Main Street' communities throughout the west. At the same time, they appeal to the urban and suburban markets that contribute to our ongoing growth and success."
About Grange Insurance Association
Founded in 1894 and headquartered in Seattle, Washington, Grange Insurance Association is a regional mutual property-casualty company operating in six Western states (CA, CO, ID, OR, WA and WY). More information is available at http://www.grange.com.