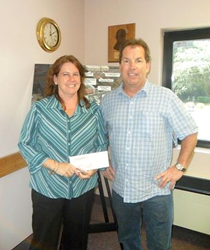 Paterson, New Jersey (PRWEB) June 30, 2014
Eva's Village, New Jersey's most comprehensive anti-poverty organization, is grateful to Pharmachem Laboratories for supporting their summer program as the camp's transportation sponsor. Pharmachem Labs is a leading developer and manufacturer of specialty granulated bulk ingredients for the food, beverage and nutritional industries. "We feel very fortunate to be in a position to partner with Eva's to help those in need in our community," stated Mr. Bob McCrimlisk of Pharmachem.
The programs for the children living at The Hope Residence at Eva's Village have been greatly expanded since 2008, including a summer filled with enrichment, education and fun! This year, those back to school assignments about "What I did on my summer vacation?" will be filled with wonderful memories for the children living in Eva's family shelter. "The summer program provides popular opportunities for funding that many of our donors appreciate," commented Donna Marie Fico, director of marketing and education. "It is a heartwarming feeling to know that you are giving homeless children a chance to attend a farming camp, have weekly swimming lessons, go to the zoo, a pottery studio, rock climbing, and enjoy special time with mom on a Broadway trip to see Matilda," she continued.
The caring and nurturing child care staff at Eva's Village created a 10 week program which includes local attractions, walking trips and fun summer bus trips. "The children are excited about the program and moms are grateful for the opportunity for their children to have a fun summer to look forward to and to remember," commented Judy Dombrosky, coordinator of the child care and education department at Eva's Village. The program starts this week with four days at Abma's Health Barn. At the health barn the children will learn about composting, planting seeds, picking vegetables and will make snacks from the food they pick.
For more information about the summer program and how you can support it, contact: Donna Fico, Director of Marketing and Education – Phone: (973) 523-6220 Ext. 230 or email Donna.Fico@evasvillage.org.
About Eva's Village
Founded by Msgr. Vincent E. Puma in 1982 as a response to the poor and homeless in Paterson, NJ, Eva's Village is a non-profit comprehensive social service organization with a mission to feed the hungry, shelter the homeless, treat the addicted and provide free medical care to the poor. Through more than three decades of service, Eva's Village has established a unique record in facing community challenges and changing the lives of the hungry, homeless and addicted. It has grown from a simple soup kitchen to become the most respected anti-poverty program in New Jersey. Eva's Village now includes fifteen integrated programs housed in numerous buildings spanning several city blocks in Downtown Paterson.
About Pharmachem Laboratories:
Pharmachem Labs recently celebrated its 33rd year of operation in Paterson NJ. At Pharmachem Laboratories we provide the food, nutritional, and vitamin industries with value added ingredients and services. "We make ingredients work!" Pharmachem Laboratories has multiple operations in New Jersey, as well as North Carolina, Wisconsin, Utah, Texas, and California. We provide our customer base with global solutions for the products they offer around the world. Pharmachem Laboratories is committed to thinking globally while acting locally in and around our communities.