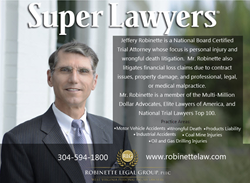 It is wise to seek legal advice early on in the claim process to prevent your legal rights from being lost or compromised.
Morgantown, West Virginia (PRWEB) June 30, 2014
West Virginia Personal Injury Attorney Jeff Robinette has released a new E-book, Collision Care: West Virginia Auto Injury Guide which provides those injured in a motor vehicle collision the information needed in order to maximize their chances of being fairly compensated for those injuries sustained in an accident, lost wages, medical expenses, and future treatments and losses.
Knowledge is power. When a person is suddenly involved in an auto collision causing serious injuries, plenty of questions arise about how the insurance claims process and court system work. In essence, information is essential in the quest to be fairly compensated for injuries and financial losses.
Collision Care answers frequently asked questions about how to enforce legal rights against the persons responsible for causing the injuries, how to navigate through the complexities of the insurance claim process and legal court system, and how to avoid being taken advantage of by those who are determined to minimize recoveries for auto injury claims.
This guide is plainly written, without "legalese" because we believe clear and practical answers are needed to shed light on these important questions and provide useful answers to those who are considering filing an accident injury insurance claim.
Click Here to Download your Free E-Book
About the Author:
Jeff Robinette is a West Virginia personal injury lawyer with decades of experience in handling motor vehicle injury claims for car, truck, motorcycle, and pedestrian accidents. Prior to representing injured individuals exclusively, Mr. Robinette was a partner in a major West Virginia law firm where he focused his law practice on defending serious and fatal injury claims. He now devotes his entire law practice to representing injury victims -- with a focus on auto collision claims.
Mr. Robinette has handled hundreds of serious, catastrophic, and fatal injury claims caused by motor vehicle collisions and unsafe working conditions -- the two leading causes of fatal injuries in the United States.
Mr. Robinette is a former editor and contributing author of the West Virginia Law Review, and is a leading author on West Virginia injury victims' rights. In addition to Collision Care, he has authored several other resources for injury victims including:

Beside Still Waters: West Virginia Fatal Injury Guide
Righting the Wrong: West Virginia Workplace Serious Injury Guide
Mr. Robinette has been rated as a West Virginia Super Lawyer and National Top 100, and is a life-time member of the Multi-Million Dollar Advocates Forum and Elite Lawyers of America, whose memberships are limited to personal injury lawyers who have attained multiple, multi-million dollar recoveries for personal injury victims. He is a former Adjunct Instructor on Appellate Advocacy at West Virginia University College of Law.
Jeff Robinette is also an U.S. Army veteran, serving as an artillery, intelligence, and psychological operations officer, and was an accomplished paratrooper (Jump Master Qualified) in the acclaimed 82nd Airborne Division.
Mr. Robinette is the founding member of Robinette Legal Group, PLLC, a Morgantown based personal injury law firm devoted to advocating the rights of injured people throughout West Virginia. Find us at 211 Everhart Drive, Morgantown, WV 26508.
Questions? The attorneys at the Robinette Legal Group, PLLC, a Morgantown, WV Personal Injury Law Firm answer questions like yours every day. Call today 304-594-1800 or after hours, 304-216-6695 or visit our WV personal injury website for access to our 24/7 chat line.