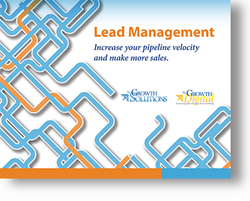 Columbus, OH (PRWEB) June 30, 2014
NuGrowth Solutions today announced the release of the latest addition to its extensive online library. Designed for easy viewing on smart phones and tablets Lead Management: Increase Your Pipeline Velocity and Make More Sales discusses the three pillars of lead management:

Lead qualification
Lead follow-up
Lead nurturing
Because acquiring leads can be a resource intensive process, it is critical to ensure that you make the most out of the leads you have. Utilizing best practices at each of these phases of lead management will enable organizations to achieve greater pipeline velocity and increase sales.
Among other things, this e-guide covers the best time to follow up on online leads, how fast to follow up, and how often to follow up.
Other popular articles, e-guides and infographics in the NuGrowth library include:
Work Smarter, Move Faster with Territory Management – It's been proven that ramping up a sales force too quickly can have a negative impact on your bottom line, but if you have a new product or service you want to take to market, marketing alone won't be enough. How do you cover the broadest territory with the least investment? View this territory management infographic to find out.
Six Steps to a Winning Content Strategy – Statistics have shown that while many organizations engage in content marketing, an alarming proportion lack a well documented strategy. This content marketing e-guide was created to help busy marketers and overworked executives put together a winning content marketing plan.
The full NuGrowth Library can be accessed by clicking this link.
About NuGrowth Solutions
NuGrowth Solutions helps organizations grow their businesses with pace and purpose. We build and lead results–oriented, "sales as a service" business development teams and support them with exceptional lead gen marketing—utilizing our propriety territory management methodology to generate leads, build pipelines and increase sales for our clients. For more information, please visit http://www.nugrowth.com.