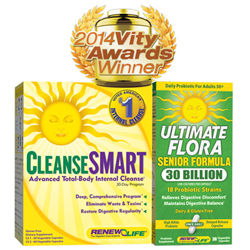 Vity Award winners are judged on ingredient quality, targeted health benefits, and popularity with consumers.
Clearwater, FL (PRWEB) June 30, 2014
Vitamin Retailer, the dietary supplement industry's leading trade magazine, presents its prestigious Vity Awards each year to supplements selected from retailers' shelves as premium quality bestsellers through a nationwide retailer survey. Products are judged on ingredient quality, targeted health benefits and popularity with consumers.
CleanseSmart has been rated the best Fiber/Internal Cleanse supplement. "We are so proud of this 10-time Vity Award winner. While many cleansing products focus primarily on the colon, CleanseSmart supports all 7 channels of elimination, including the colon—and the liver—the body's most important detoxification organ," stated ReNew Life President and public television educator, Brenda Watson.
CleanseSmart is an advanced 30-day, 2-part, total-body internal cleanse:

Deep, comprehensive program
Formulated with more than 20 natural herbs and 9 deep-cleansing herbal extracts
Helps eliminate waste and toxins
Helps restore digestive regularity
Contains no fillers, binders, or added artificial ingredients
Ultimate Flora Senior Formula 30 Billion finished #1 in the Probiotic/Enzyme category. "With mainstream media now noting the benefits of taking a daily probiotic, the 50+ population is quickly discovering the positive effects probiotics provide to their digestive systems. As we age, our level of Bifidobacteria declines. Ultimate Flora Senior Formula contains more Bifido than Lacto to help people 50 and over maintain a healthy digestive environment," Watson concluded.
Ultimate Flora Senior Formula 30 Billion is a high-Bifido, once-daily maintenance probiotic for adults age 50+:
30 billion live probiotic cultures per capsule
10 beneficial probiotic strains
(18 billion Bifidobacteria/12 billion Lactobacilli)

Relieves digestive discomfort
Maintains digestive balance
The Ultimate Flora Difference
Ultimate Flora high-potency probiotics feature one-capsule-per-day convenience in delayed-release vegetable capsules that protect the probiotics from harsh stomach acid. Potency is guaranteed until expiration (not just until time of manufacture). Ultimate Flora probiotics contain billions of raw, live probiotic cultures and contain no GMOs, wheat, gluten, eggs, shellfish, tree nuts, or artificial ingredients.
ReNew Life thanks Vitamin Retailer for making these very distinctive awards possible. A complete list of the 2014 Vity Award winners is featured in the Vitamin Retailer June issue.
CleanseSmart and Ultimate Flora Senior Formula 30 billion are sold in natural health food stores and fine retailers everywhere.
About ReNew Life
A leader in Natural Digestive Care, ReNew Life Formulas was founded in 1997 by Brenda and Stan Watson and offers a full spectrum of natural digestive care supplements, fish oils, and functional foods. Each ReNew Life product is made from only the finest raw ingredients. The company's analysis, educational materials, customer service, and superior manufacturing practices all set the benchmark for others in the industry. Above all, ReNew Life is dedicated to helping their customers achieve and maintain optimal health, increase energy, and enhance their mental clarity.
For additional information on ReNew Life's CleanseSmart and Ultimate Flora Senior Formula 30 Billion, please contact bcooper(at)renewlife(dot)com.