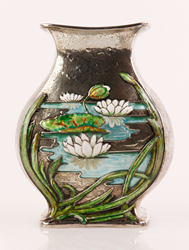 Beverly, MA (PRWEB) June 30, 2014
July at Kaminski will showcase a stunning selection of jewelry, ranging across the centuries from a breath-taking Roman work in gold, to elegant Art Nouveau and Modern pieces.
From the Modern era, the auction presents an Austrian Art Nouveau pendant, exquisite in twenty-two carat gold. The finely worked flowers and tendrils of hair frame a striking iridescent face. An illegible signature, accompanied by a mark in the form of a butterfly, appears on the piece, but the maker of this small artwork is unknown.
A Handel lamp will also appear in the auction. The lamp features a blue parrot shade numbered 7060AG, and is marked on the shade and base. It has been estimated at $2,000 to $4,000.
Other items from other collections in the auction include a beautiful Ubaldo Vitali work in sterling silver. Vitali is known as the premier living silversmith in the United States, and has produced commissioned works for Tiffany, Cartier, and Bulgari. The display book case currently at Kaminski was commissioned directly from the artist and features brilliantly wrought figures from Chinese, Japanese and Indian iconography. The one of a kind book cover is expect to sell for between $2,000 and $4,000.
A rare Gorham silver piece will also star in the upcoming auction. The elegant vase flaunts an enameled water lily design in naturalist colors on one side of its flattened baluster form. The reverse echoes the design on the front, with similar water lilies depicted in relief. The base carries hallmarks for 1896-97 along with a "Sterling 1604M" stamp. Previously, the unique piece has been appraised for $49,500.
Also among the top lots is a 19th Scottish ram's head trophy snuff mull. The crown of the taxidermy ram's head has been inset with a silver lined canister for the snuff. Large and amply curled horns frame the entire head, making for an impressive piece. Appraisers have applied a $6,000 to $10,000 value to the piece.
Art collectors will also see a number of fine sculptures offered in the sale, the foremost of which is a bronze by Harriet Whitney Frishmuth, a 19th century American artist. Entitled "Crest of the Wave", it depicts an elegant female nude poised atop foaming surf. Her entire body is caught in graceful upward movement, mirroring that of the wave below her. The bronze is expected to sell for between $1,200 and $1,600.
The auction will also offer a Marc-Aurele de Foy Suzor-Cote depicting a nude. The piece is signed, and dates to 1925. Measuring fifteen inches high, it is estimated at $7,000 to $15,000.
Other exciting items include two Anglo-Indian pieces with intricate inlay designs, as well as an 18th century Dutch colonial bible box from the period of the United East India Company. The fine box carries an estimate of $1,700 to $2,500.
These items, along with a broad selection of other jewelry, fine bronzes, and zitan and huanghuali furnishings, will be offered at auction on July 13th, 2014. Preview for the sale will take place Thursday through Saturday, July 10th through the 12th, from 10:00am to 5:00pm daily. For an online catalog of the sale, visit http://www.kaminskiauctions.com.
KAMINSKI
Kaminski Auctions, located on the North Shore of Boston, has been serving the New England antiques market for over 25 years as a full service auction house and appraisal service for fine art, antiques and estates.
With two locations in Beverly, Massachusetts, including a new state of the art auction gallery located at 117 Elliott Street, and a historic 1850's barn and office facility at 564 Cabot Street, Kaminski Auctions hosts 25 auctions a year.
In today's highly competitive market of fine art and antiques, Kaminski Auctions provides its customers with bicoastal services and marketing with west coast offices in Beverly Hills and San Diego, California.
Kaminski Auctions offers specialty departments in Asian Art and Antiques, Silver, Glass and Lamps, Couture and Vintage Clothing, Photography and Modern Design. We have highly trained and knowledgeable appraisers on staff that will help you determine the true value of your antiques, or entire collections. Free Appraisal days are offered every Tuesday from 10:00am-4:30pm at 117 Elliott Street in Beverly, Massachusetts & by appointment at our San Diego and New York City locations. We welcome emailed photos of your items! Contact us.
We would like to thank all of our customers, consignors and friends for voting Kaminski Auctions #1 Best Auctioneer on the Northshore - Reader's Choice Award! "Kaminski has earned its gold-star reputation by serving the New England antiques market for over 25 years. Specializing in the sale of Asian art and antiques, silver, glass and lamps, couture and vintage clothing, photography, and modern design, the full-service auction house provides expert appraisal services. From its Beverly art gallery and historic barn comes a wealth of experience with fine art, antiques, and estates values." - Northshore Magazine