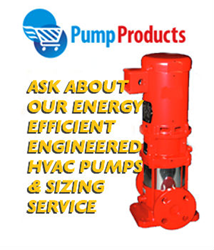 By offering sizing and selection assistance with high efficiency AC equipment, and offering that equipment at discount prices, we try and get through the front end cost barrier.
Wallington, NJ (PRWEB) June 30, 2014
Summers are getting hotter across the U.S. and commercial air conditioning and energy consumption are projected to grow significantly in the coming years. Efficiency measures taken now can result in substantial savings down the road and Pump Products staff are offering free sizing and configuration assistance with high efficiency air conditioning pumps.
"Air conditioning costs can account for up to 10 percent of energy costs in commercial buildings this time of year," says Product Expert Fred Hettinger. "Low-cost, low efficiency equipment is a quick fix that ends up costing a lot in the long run. Efficient air-conditioning equipment can provide substantial long-term savings but can cost more on the front end. By offering sizing and selection assistance with high efficiency engineered HVAC pumps, and offering that equipment at discount prices, we try and get through the front end cost barrier."
As a leading on-line retailer, Pump Products is often the go-to supplier in emergency situations in which the choice of product is heavily dependent on what is in stock. Pump Products consistently stocks high efficiency HVAC pumps and strives to provide customers with the price, sizing and installation support necessary to make informed long term decisions.
"Our stocking practices have increased the availability of high efficiency air and water cooled air-conditioner and heat pumps across the Northeast," says General Manager Ed Drejman. "Our Help Desk and Toll-Free Hotline are in place to address the needs of customers who lack familiarity with high efficiency engineered pumps. We hope these elements promote the choice of energy efficient equipment from developer to contractor to consumer."
Pump Products currently offers high efficiency, state-of-the-art HVAC pumps in base mounted & vertical inline engineered designs that are suitable for use with air-conditioners (air, water and evaporatively cooled); heat pumps (air and water cooled); and variable refrigerant flow multi-split systems. Top Sellers include Bell & Gossett 1510, 1531,HSC & Series 80 models; Armstrong 4700, 4600, 4360, 4380 and 4030 models; and Taco FI, KV and FV models.
"Because lowest bid quotes drive the commercial HVAC industry, we offer PHCC Members discounts that they can pass on to their customers," says Hettinger. "It's one of many ways in which we work to promote high efficiency equipment among contractors and other trade allies. The electric and natural gas consumption savings potential is there. It's our job to make it easy and affordable."
COMPANY INFORMATION
Pump Products is an online pump retailer offering an extensive selection of pumps and repair parts by leading manufacturers including Armstrong, Bell & Gossett, Taco, Berkeley, Hydromatic and Little Giant to residential, commercial and industrial customers. For more information, visit Pump Products at http://www.pumpproducts.com or call 1-800-429-0800.